While nothing is as exciting as an evening of chasing the northern lights in person, we believe that we may have found the next best thing – watching the lights in virtual reality! We admit it: we have always been a bit sceptical about Virtual Reality or VR as it is often referred to. Our journey with VR starts several months ago in the lunchroom of the STF Abisko Turiststation.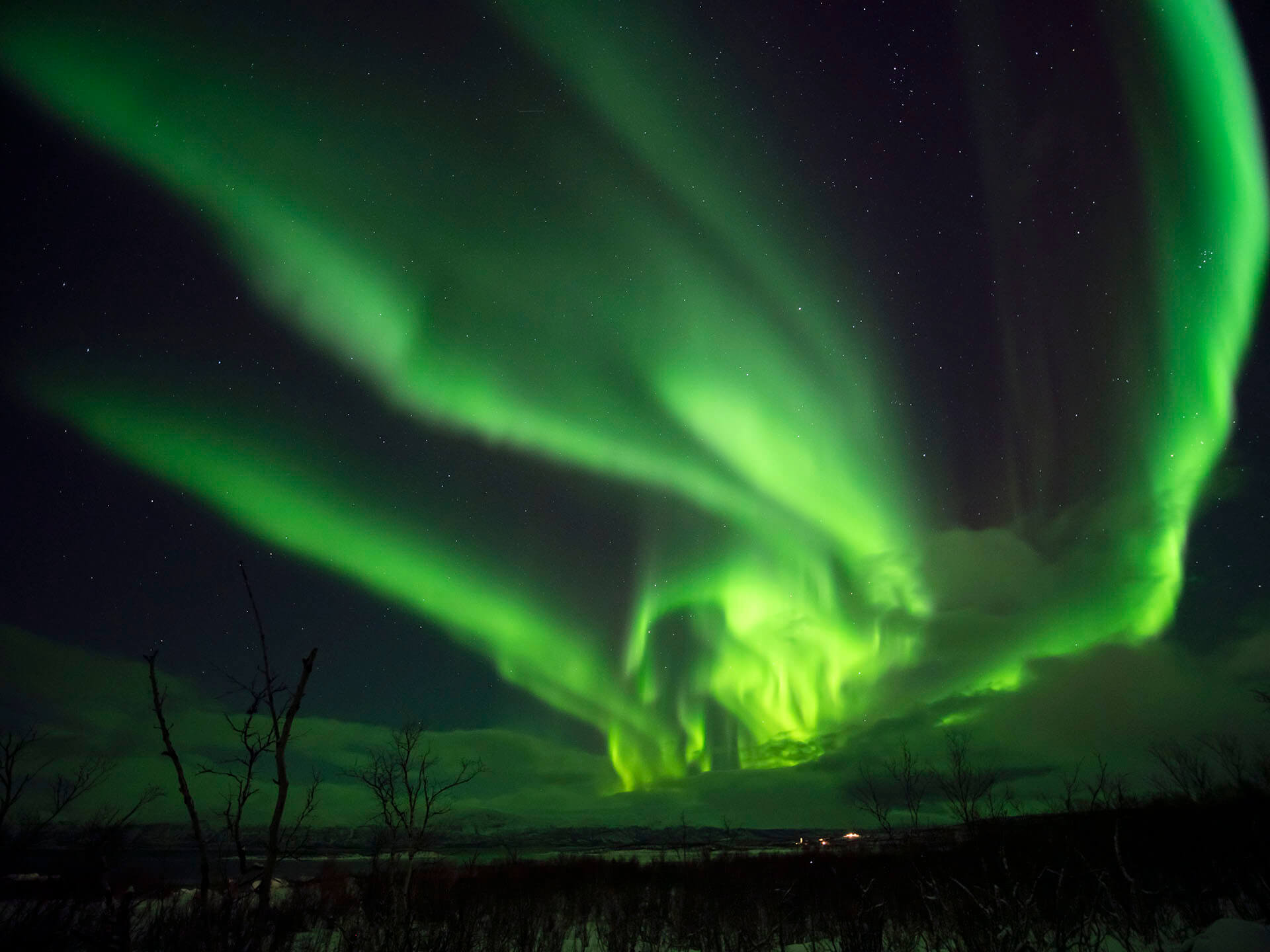 I can remember the day very clearly: spaghetti Bolognese was on the menu and I was having a meeting with the newest member of our team, Hendrik S. Schmitt who owns a company called The Jetlagged with his wife Claudia. Hendrik joined the Lights Over Lapland crew as an intern earlier this season and has a long history as an underwater videographer. Our lunch meeting was only supposed to be a simple discussion about a film project that Hendrik and his wife Claudia were working on for Lights Over Lapland but then something spectacular happened: Hendrik got out his VR headset and showed me a video that would forever change my perception of this incredible new technology.
Hendrik carefully adjusted the VR headset so that it rested perfectly in front of my eyes and asked me if I was ready. I nodded with an up and down movement of my head to signal that I was ready and then it happened: I was instantly transported to a land far away and was diving in a crystal-clear sea above a vibrant coral reef. As I moved effortlessly through the warm water I was immediately fascinated by how realistic the sensation was. I found myself looking in every direction, taking full advantage of the VR headset's ability to fully immerse my mind and show me an amazing coral reef in 360 degrees of spectacular clarity. As I scanned the seabed looking at multi coloured reefs and watched fish swim by I was astounded to think about the reality that this may be the only way that the clear majority of the population would ever be able to experience this sort of a scene. Whether it is fear of water, financial/physical limitations, or the simple fact that the reefs may not exist for many more years, there are a whole host of obstacles that make it difficult for a large portion of the global population to travel to far off locations like a coral reef. VR may well remove these obstacles and enable large portion of the planet finally get the opportunity to experience this sort of beauty without ever pushing beyond their limitations and leaving their own home.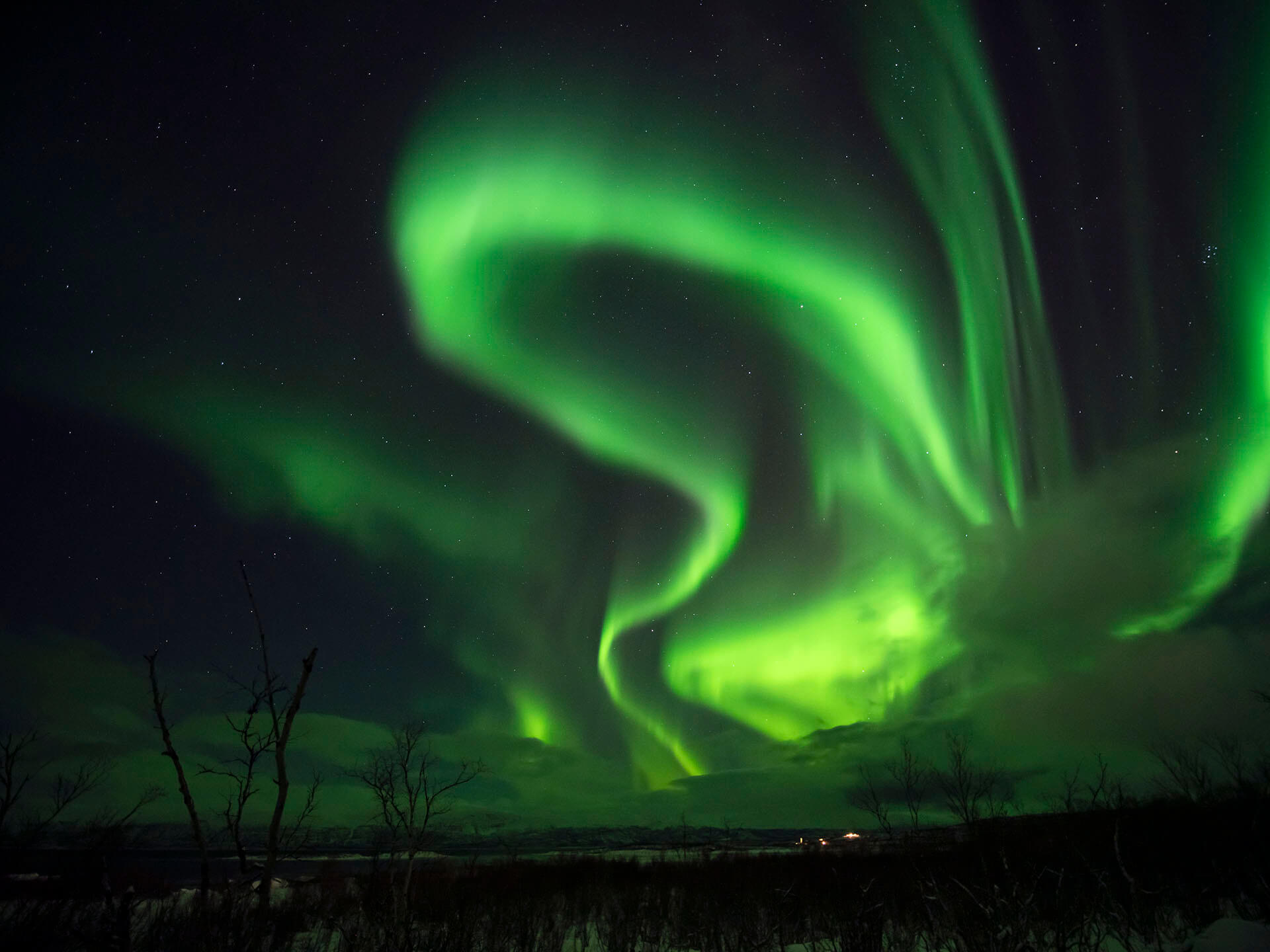 After I had the initial realisation about how incredible Virtual Reality really is I realised why Hendrik had brought the VR headset to lunch: he wanted to start a project that would give Lights Over Lapland the opportunity to show the world just how incredible Abisko National Park and all the great experiences on offer really are – even if the audience can't physically visit Abisko for themselves. With this in mind, we are proud to reveal our very first VR project which gives you a glimpse of what it feels like to experience a day in Lapland. Our Virtual adventure starts with a morning at the ICEHOTEL followed by a journey northwest towards the Arctic birch forest. After strolling through the birch trees, we lead you to the shore of Lake Torneträsk where you can take in all its scenic views before visiting a friend of mine who is a reindeer herder and riding in a sleigh behind one of his reindeer – just like he and his family have done for centuries. Finally, we will visit one of my favourite locations in all Abisko National Park: the Sami hut at the base of Mt. Noulja. After spending a few moments in this incredible structure, we will finally head outside and watch the auroras dance overhead in all their ethereal beauty.
We have captured hundreds of videos of the northern lights in Abisko National Park during the last decade starting with basic time lapse videos of the northern lights in the early years all the way up to ultra-modern real time aurora footage during the last couple of seasons. While both time lapse and real time aurora footage have both helped us share the northern lights with our fans, we believe that no other medium has the potential to give you the feeling of what it feels like to experience the northern lights in the way that a VR headset can deliver. That said, please grab a VR headset and experience a day in Abisko for yourself:
Looking for more aurora footage?
We have now released three new VR films featuring the Aurora Sky Station and ICEHOTEL. Head over to our Virtual Aurora Tours page to experience these for yourself – and stay tuned for more aurora footage!