I'm a true outdoor enthusiast with a deep love for nature and riding snowmobiles through the endless white landscapes. I'm eager to share a part of it with everyone, hoping to convey the emotions it causes me.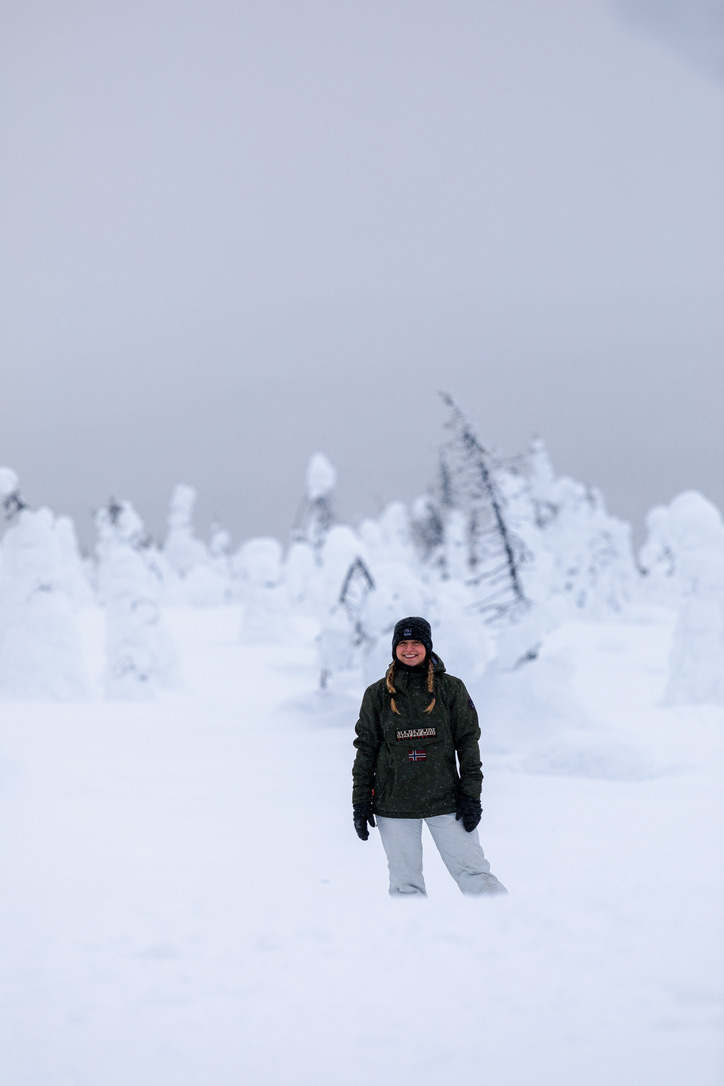 Born and raised in the heat of Spain, where sunny days are the norm. I had no idea hat the icy landscapes of Lapland would one day capture my heart. My journey into the realm of snow and winter wonders began with a single experience that I can say changed my life.
In 2021, I started a new chapter of my life by experiencing the cold winters in Finland, where everything was covered with shiny white snow and felt peaceful and quiet. Outdoor sports have always been a passion of mine, but I have never attempted them in these weather conditions before. I was doing various outdoor guided tours, from the northern lights, to ice fishing, snowshoeing, and even snowmobiling. The last one, snowmobiling, was the one that really captured my heart and sparked a new passion in me.
This job was more than just a job – it allowed me to take intrepid travelers on adventures in untouched wild places. It was like sharing something new that I loved with others.
My journey did not end there. During the summer season, I visited Norways beautiful mountains and guided people on amazing hikes and scenic trips. Norway's landscapes were captivating, but I was eagerly anticipating the return of the cold winter. Last year, a new adventure embraced me – an opportunity to work with a company solely dedicated to the thrill of snowmobiling. As the icy winds brushed against my cheeks, I knew I was exactly where I belonged, in the cold Lapland. Surrounded by breathtaking landscapes, nature, animals, the stunning northern lights, and an infinite number of amazing things so I need not list them all. Thanks to my time with this company I was able to gain experience as a guide and embrace the joys of driving snowmobiles. To wrap up the season, we went on a 4-day expedition to Abisko. Those days made me wonder where I would like to spend my next winter. I was amazed by the beauty of it.
The Arctic's snow and endless chances caused me to develop a strong feeling within me that I couldn't ignore. Starting in Spain, becoming a snowmobile guide, and loving the North, I am now ready to embark on a new journey in Sweden. As the saying goes, "All who wander are not lost," and I feel like I'm right where I'm meant to be.
The Arctic is now my home, and I am delighted to welcome this new chapter with Lights Over Lapland team.
I'M NOW MOVING TO ABISKO, SO LET ME GUIDE YOU INTO THE WILDERNESS AND LETS GO FOR A RIDE IN THIS BREATHTAKING PLACE, YOU WILL UNDERSTAND WHAT I MEAN!