A little over nine years ago, my wife and I moved to Abisko National Park to take on seasonal summer jobs, but we quickly fell in love with the breath-taking landscape and warm people of Northern Sweden.
'Lights Over Lapland' is our venture into photography to capture and portray the wondrous nature that we are fortunate enough to observe first-hand in Swedish Lapland.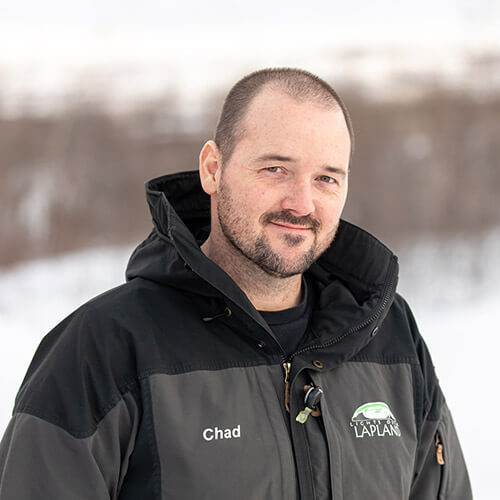 My interest in photography began at a young age. When I was a teenager, I worked for the local newspaper in a small town outside of New Orleans, Louisiana. During my college years I started a small but successful business photographing weddings and students preparing for graduation. Though I truly enjoyed the technical aspects of photography, I soon grew tired of the repetitive scenes. I put down my camera and thought that my days behind a lens were finished.
Nearly ten years after losing interest in photography, something incredible happened – I saw my first aurora. Since that cold, dark night in the far north of Sweden I was hooked. Since then I have spent thousands of hours outside photographing the star-filled skies.
My passion for the night sky was further peaked when I began working at the Aurora Sky Station where my actual job was to hunt for auroras. Today, Lights over Lapland is able to offer all inclusive multi day aurora photo expeditions, nightly aurora photo trips, customisable aurora photo adventures, HD Video, postcards, aurora souvenirs, and marketing images for individuals and companies all around the world.
Lights Over Lapland was the first company to offer aurora photography adventures in Abisko National Park. Our attention to detail, extreme interest in our clients needs, and a desire to make sure that every one of our guests have a great time in Abisko National Park is what sets us apart from the other operators in the area.
I am humbled by the opportunity to live and work in such an amazing place and I am very thankful for this chance to show you the Lights Over Lapland. Please wander through our galleries and contact us with any questions abut our trips or interests in our photographs.
This website is dedicated to my wonderful wife. Without Linnea, I would never have discovered the joy of photography combined with the beauty that is the aurora borealis. Linnea's willingness to allow me to follow my dreams and her hard work behind the scenes have been the biggest driving force to help make my dreams become a reality.