Lights Over Lapland has been operating an array of aurora webcams in Abisko National Park, Sweden for nearly a decade now. This journey all started when our founder, Chad Blakley was working at the Aurora Sky Station.
The Aurora Sky Station had been working with another local company on an aurora webcam, but sadly the existing system used an electrical system which was unstable and caused lots of downtime for the camera. It was this instability that caused the Aurora Sky Station and Lights Over Lapland to decide to form a partnership and to build a system which was reliable and could be counted on to broadcast beautiful images of the northern lights to aurora lovers all over the world. During this time, we have spent countless hours working on and tweaking the system in order to be able to share the beauty of the aurora borealis in Abisko National Park, Sweden with fans all across the planet. It was not an easy task, but we are incredibly proud to say that we have one of the longest running and most popular aurora webcams on the planet.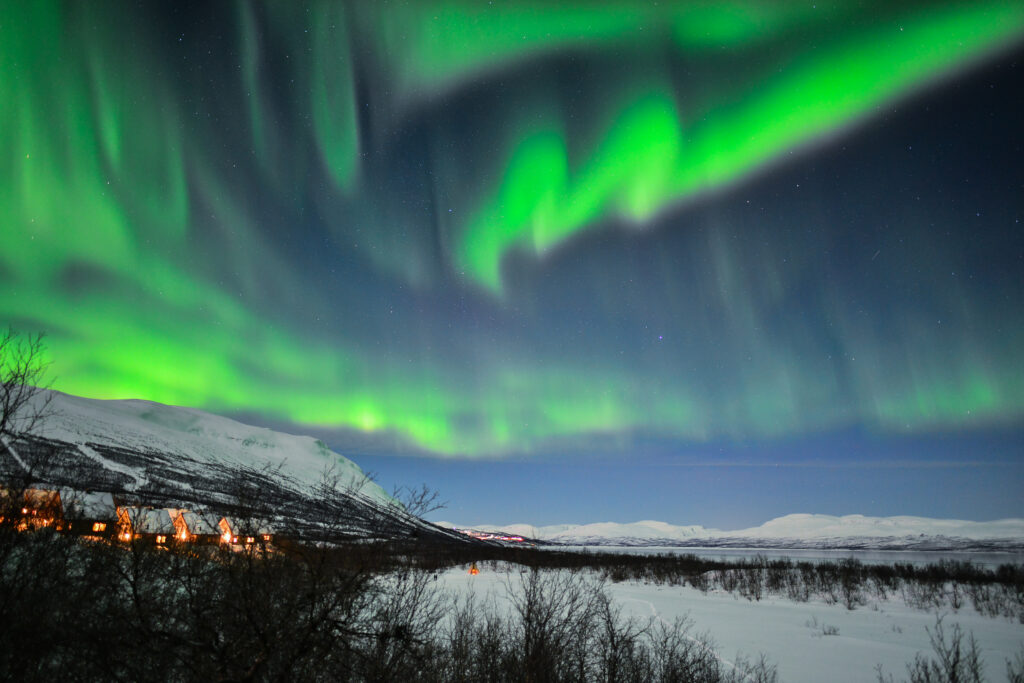 For the first several years we had one single camera, a small format Nikon DSLR which was mounted under a dome on the roof of the Aurora Sky Station. The camera performed reasonably well and captured lots of beautiful images of the northern lights, but we were still not quite happy with the stability of the system. As the years went on we began to understand that we could provide a more reliable feed to our fans by moving this camera down to a location near the STF Abisko Turistation, where we could find a solid, stable electrical connection and a fast internet connection to manage the system. When we made this move, we decided to add a second camera so that we could share a panoramic view of Abisko with our fans. Adding the second camera also helped build in a bit of redundancy which allowed us to increase our general up time and provide a very stable source of new Aurora images every five minutes. This new addition worked very well, but we still felt like something was missing…
Fast forward to 2020, and we have made another quantum leap in technology by installing the first 100% real time Aurora webcam in Sweden. This brand new technology utilizes an extremely sensitive mirrorless camera from Sony which is able to broadcast a live stream in high definition 24 hours a day, 365 days per week. The real time high definition live feed started broadcasting just around the beginning of 2020 and has been providing a window into the world of the northern lights ever since. This new real time aurora camera is currently pointed to the northwest and will be up and running all summer long. As we approach the Summer and Autumn season our plan is to add additional still cameras so that our guests can see the sky above Abisko from as many vantage points as possible. In addition, we have loose plans to add an additional real time camera which points straight up so that we can capture all of the fast moving auroras which tend to live high in the sky, particularly as we approach the coming solar maximum.
We are incredibly proud of our array of webcams and feel very fortunate to have been able to install the new real time Aurora webcam in Abisko just as the COVID-19 crisis began to unfold. This new technology allowed former visitors as well as future guests to live vicariously through our lens. It gives us great pleasure to know that this camera was viewed many millions of times during the 2020/21 and we like to think that it helped people who were stuck in isolation pass the time.
Below you will see some images we captured during the installation of the new webcam and we have sprinkled a few of our favorite images that our array of webcam have captured during the last decade. As it stands now, we have turned off our two still webcams during the spring but plan to slowly bring them back on line as we approach the summer and the 2021/22 Aurora season in Abisko National Park. In the meantime, please head over to our live Aurora webcam page and enjoy watching the weather change and the midnight sun shine in all of its glory!
Stay tuned – our next blog will be released soon 🙂