After completing my 7th season as a Senior Guide for Lights Over Lapland, I've come to know the products we offer inside out having guided them all many times. This season I was mostly guiding our multi-day aurora packages and I thought it would be interesting to walk you through my favourite trip to guide – the 4 night, 100% Private Aurora Escape. The Private Aurora Escape is a relatively new product for Lights Over Lapland, but it has quickly become a guest favourite. We feel it offers our guests the most flexibility and the best Arctic experiences, all from the comfort of a fully catered private house in Abisko.
The 4 night, 100% Private Aurora Escape was a creation that was born from the pandemic. Lights Over Lapland has operated in Abisko since 2010 and our products were all hotel based. Over night the world changed, and global tourism became a dream of the future. We wanted to be able to offer guests a fully private escape which minimised the risk of mixing with other people. Previously our guides had shared a house within Abisko, so it made perfect sense to offer this as a safe space for guests. (A big refurbishment to the house began, making the house truly comfortable for our future guests). The only contact with other people would be your guide and occasionally other guides depending on the activities booked. The 4 night, 100% Private Aurora Escape was an instant hit and has now become our most popular product. Thankfully the world has now returned to a place of wide open travel, and all of our aurora tours and Arctic experiences have been fully operational for the last two seasons. Yet our 4 night, 100% Private Aurora Escape sells out each year and is already quickly filling up for the next aurora season!
While it might be easy to assume that a 100% private trip with a private guide and access to an entire house would be very expensive, the simple fact is that the per person price for this once in a lifetime adventure is actually very reasonable, especially if you are travelling in a group. Lets look at an example of a group of six friends traveling to the Arctic: The total price for six guests is 98,995 SEK. When we divide this number by six, that equates to a per person price of 16,499 SEK. (The per person price drops even further if you travel in a group of seven or more) This price includes a meet and greet at the airport, access to a large, newly renovated private house, access to ONE guide for the full duration of your visit, all meals – breakfast, lunch and dinner all from fresh, local ingredients all of which are organic and palm oil free whenever possible. This also includes a daytime and evening activity every single day, all in the comfort of knowing that you never have to interact with anyone outside of your party and that you will be treated like a VIP from the moment that you arrive until your guide says goodbye on the final day of your adventure.
Lets compare this price to our incredibly popular Customisable Aurora Aurora Holiday which we have been offering for nearly a decade. The cost for this trip is 17,795 SEK per person, which is a great value! That said, our Customisable trip does not include a meet and greet at the airport, only includes one daytime activity -compared to three in our Private Aurora Escape. All activities on our Customisable Aurora Holidays are non private, which means that your daytime activities are with members outside of your party, and the Customisable Holiday uses a standard hotel which is shared with other guests. While both trips are incredible and offer travellers a great way to see and photograph the northern lights in Abisko, it is clear that the exclusitivity that comes along with our 100% Private Aurora Escape is the clear winner from a value standpoint. Long story short – you will not find a better value than our Private Escape. Now that you know how great a value our Private Escapes are, I thought it might be a good idea to give you a day by day break down of how our Private Escape is operated. With this in mind, I suggest that you continue reading a day by day break down of a Private Aurora Escape below:
In November of 2022, Claudio, one of our longest serving guides hosted four guests from the USA on one of our 4 night, 100% Private Aurora Escapes. They had a fantastic time with us, being gifted with some beautiful auroras and cold crisp weather. So, I wanted to use Claudio's images of the trip to give you a day by day breakdown of what you could experience if you choose to visit Abisko with Lights Over Lapland on a 4 night, 100% Private Aurora Escape. Each package includes four nights hunting the aurora and three daytime activities, for more details see here.
DAY 1
All of our tours begin with a meet and greet at your arrival point into northern Sweden. The most common choice is Kiruna Airport, roughly one hundred kilometres from Abisko. Some guests choose to stay at the Ice Hotel in Jukkasjärvi before the tour, and some even arrive by train from Stockholm. Wherever you decide to arrive, your guide will meet you there, greet you with open arms and make sure that you feel welcome from the moment that you arrive.
We now have two houses available to use in Abisko, one can sleep up to eight guests, the second up to four. It's possible to use both at the same time so we can cater for groups of up to 12 people.
The houses come fully stocked with delicious foods, and an easy dinner menu is provided every night enabling you to prepare Swedish meals that are simple to cook. This includes reindeer and moose when available. Though we are already used to catering for special dietary requests if required. If you don't like the idea of cooking then a local private chef can be hired to prepare your evening meals for you.
After dinner, your guide will come to the house to give you a lesson on how to use the cameras and tripods and to make sure the Arctic overalls and boots are a good fit. All of these are included as part of your 4 night, 100% Private Aurora Escape package.
Our guides have a vast wealth of knowledge on how to forecast the aurora, local weather patterns and sites best suited for current climatic conditions. This could mean that you would stay very local to Abisko and the National Park for 4 nights, or you may drive if conditions are favourable elsewhere.
On this tour Claudio decided to head to one of our local sites within Abisko National Park. It's a very short drive so an obvious choice when local conditions are good, as you can be capturing images of the aurora within a short time of leaving the house.
As you can see from this picture, our guests were gifted an aurora on their first night. We love to start a tour off to a flying start, and already these lucky guests were having their aurora dreams fulfilled.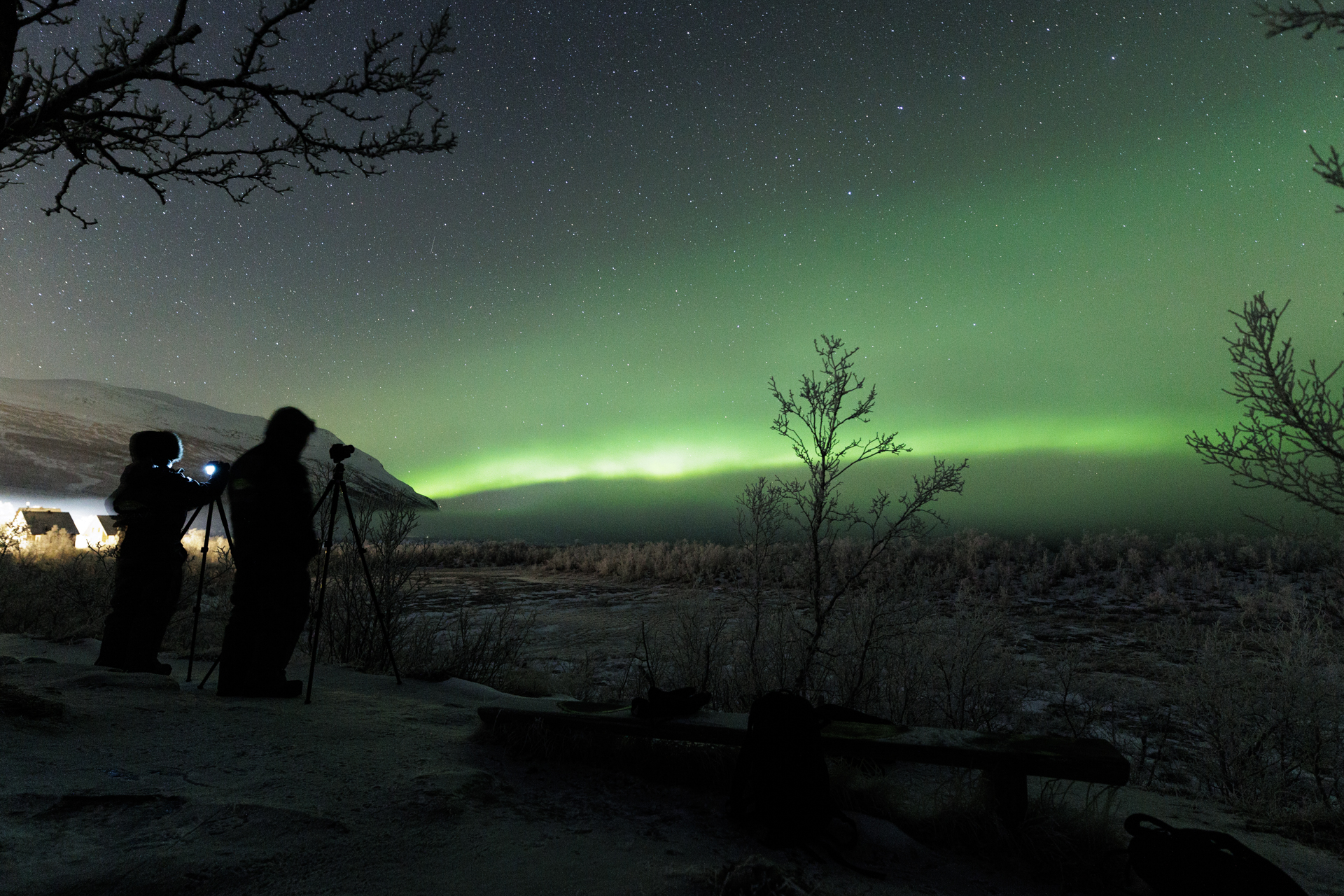 DAY 2
After a recharge overnight, Claudio collected the guests and then went on a beautiful hike in Abisko National Park. Temperatures were in the negative teens and the guests were taken around the Abisko canyon in the National Park and down towards the mighty Lake Torneträsk. Because of the temperatures and lack of wind everything was covered in a thick hoar frost making the landscape look sublime and surreal. A true Arctic experience 🙂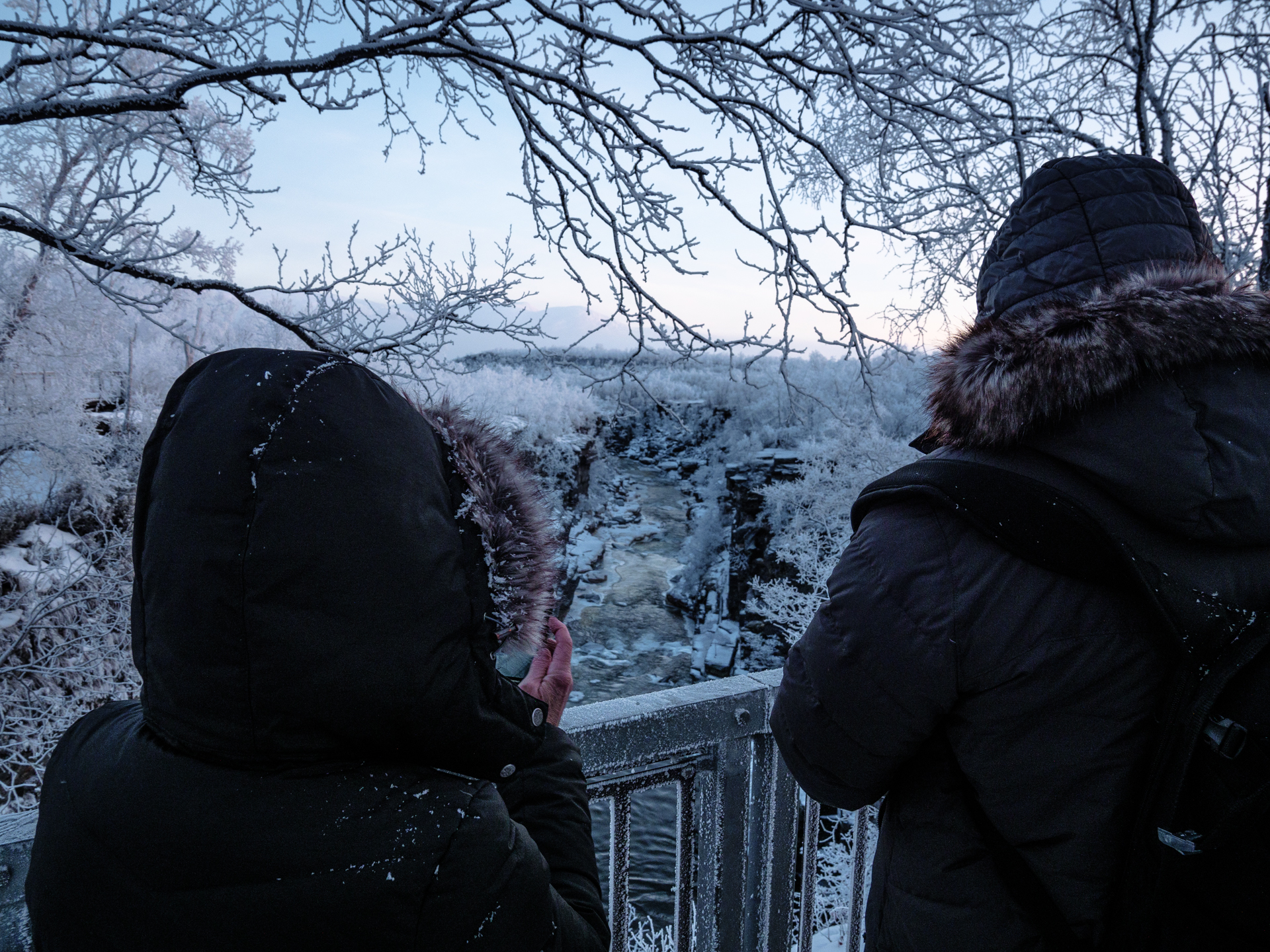 A temperature inversion was also present which appears as a thick bank of mist over the lake so Claudio decided to add on a bonus excursion to a local viewpoint at which gives an elevated view over the valley and down towards Abisko.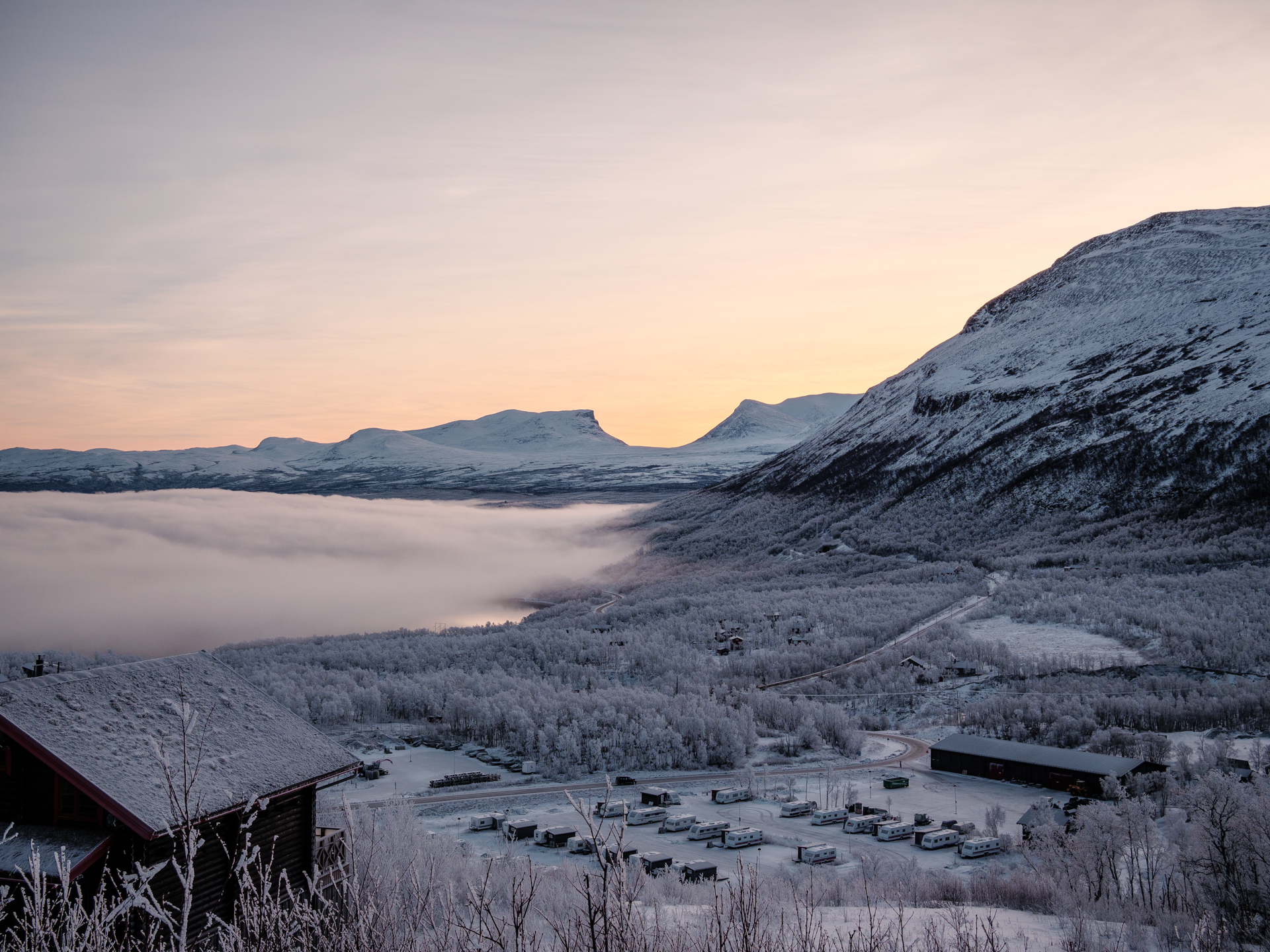 Returning to the house after your daytime activities can give you anything from 2-6 hours of downtown, enough time for a sauna, a nap and a recharge before heading out in search of more aurora.
Again Claudio decided to stay local and to use one of our sites at the northern edge of the village, in an elevated position looking towards the lake and mountains that surround the village. Another clear night meaning no driving to the east or west was necessary, which resulted in a second night of Aurora for out guests. Two nights out of two is pretty impressive!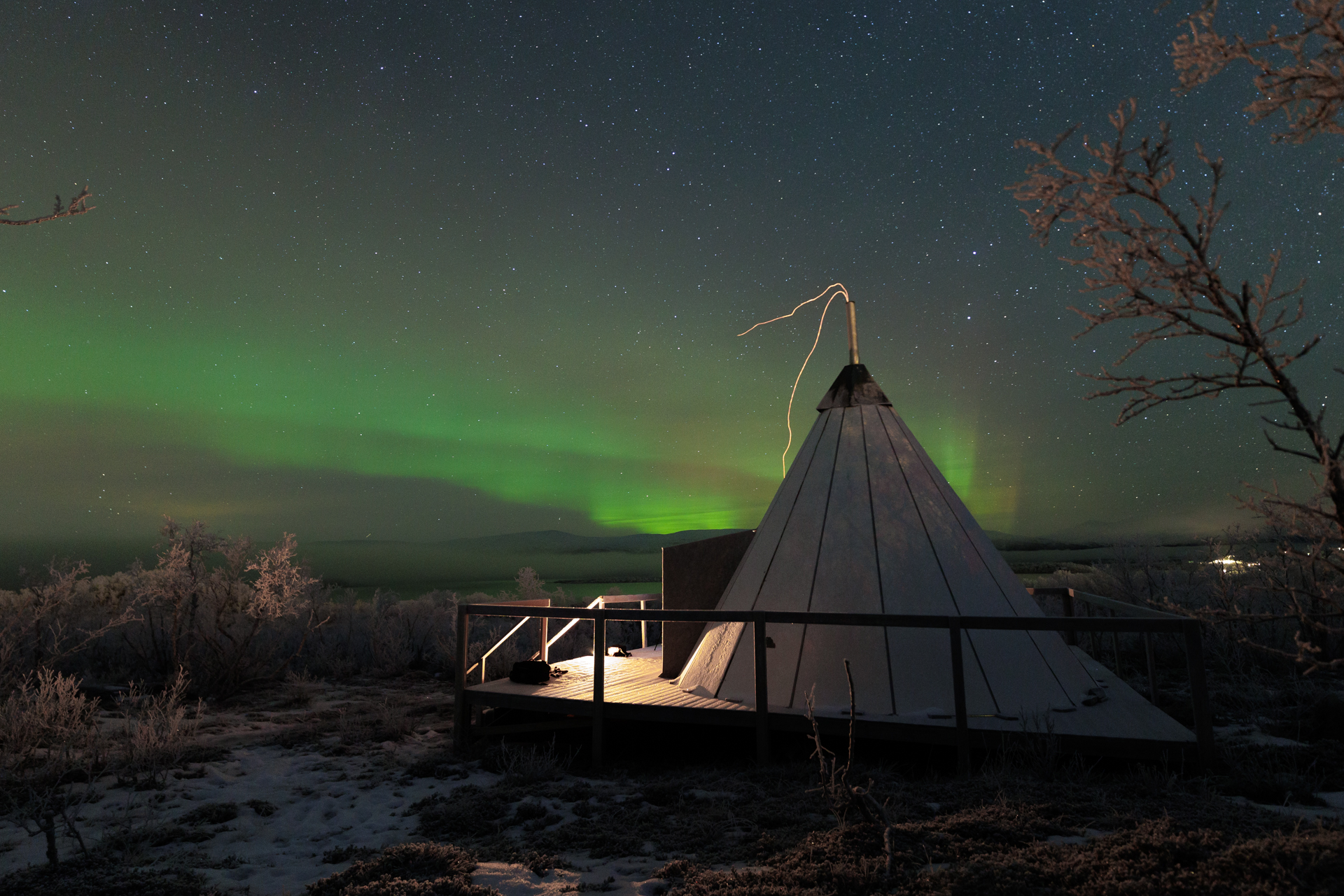 DAY 3
Today our lucky guests headed out on a photography adventure, taking in the beautiful scenery that surrounds Abisko and Lake Torneträsk. This can be as adventurous as you want, either vehicle based or exploring further towards the shore by foot. As you can see from the images the beautiful frosted trees were still showing strong and the delightful blues of the early winter light offered some amazing opportunities for beautiful imagery.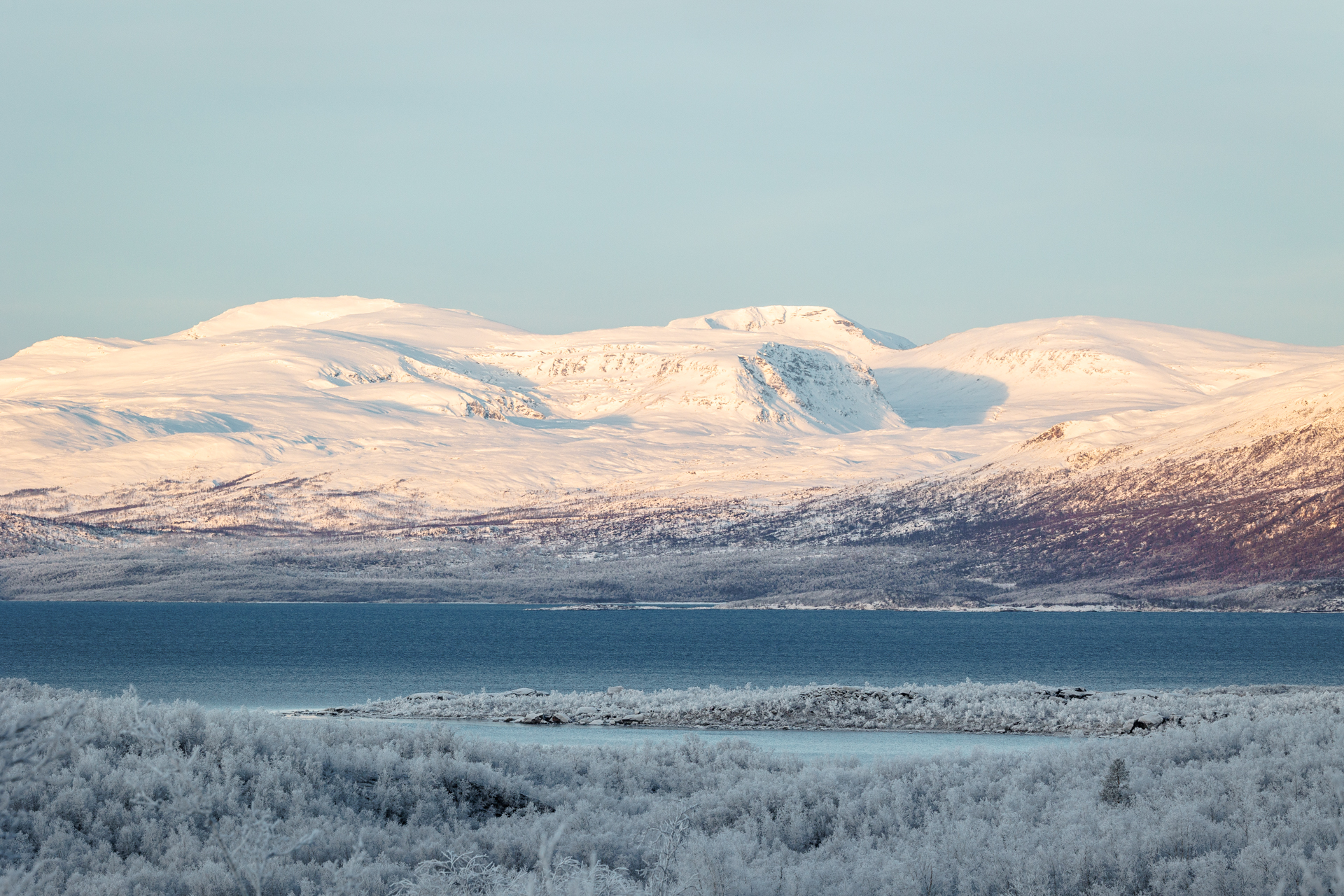 Two of the guests wanted to get a bit more adventurous and so Claudio took them for a late afternoon hike up to another local viewpoint where they were able to see the most amazing panoramic view in a soft warm sunset light – sunset would be around 3pm at this time of year!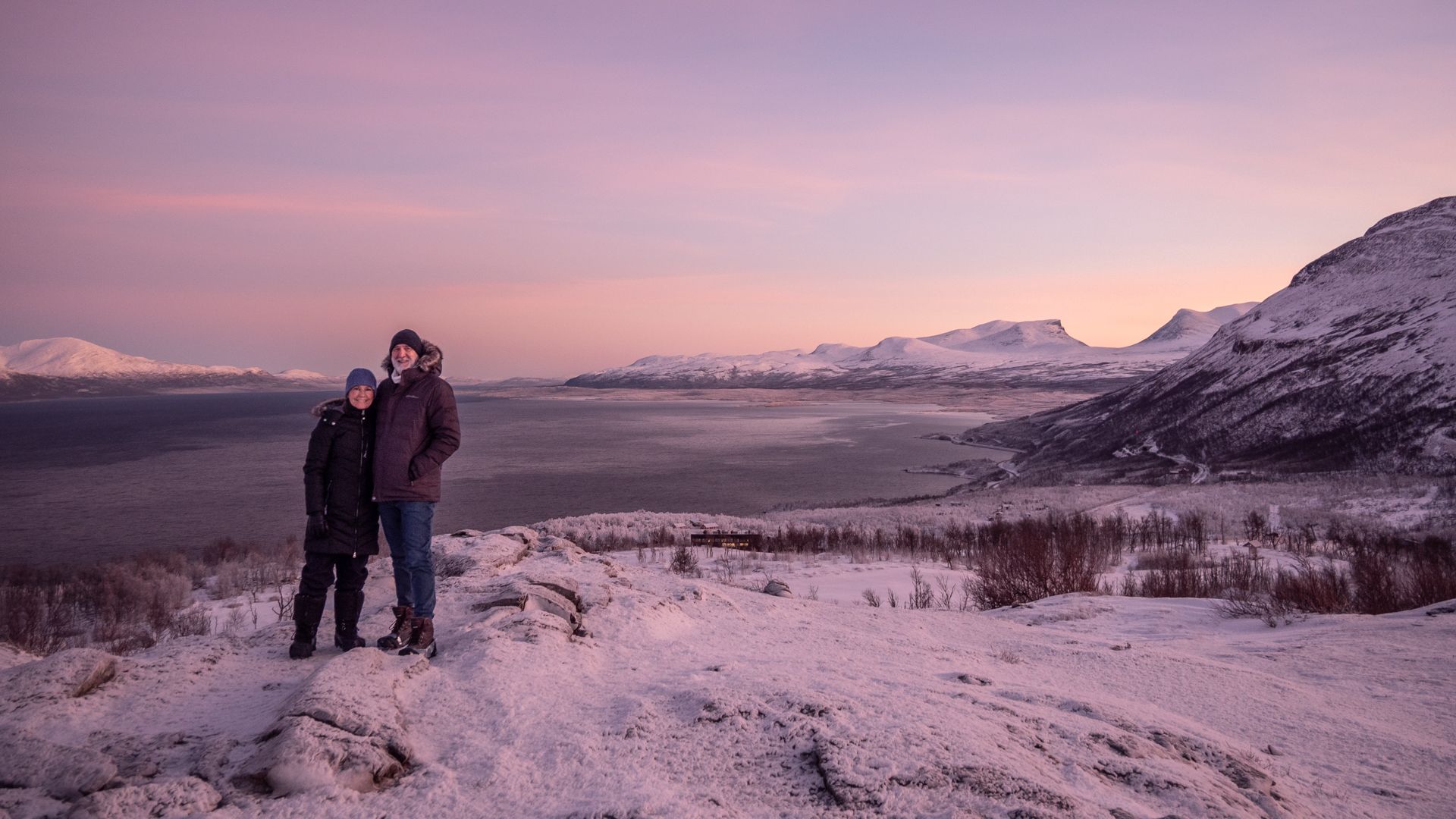 Another clear night was forecast, so Claudio wanted to show guests another of our local sites, situated a few kilometres to the east of Abisko. A short walk to another of our shelters gives guests a really awesome wilderness experience with minimum effort. Our shelters will keep you warm, and it's another beautiful site for seeing the aurora from. Our guests hit the jackpot on this beautiful clear evening, bright colourful auroras appeared, dancing in the sky forming a crescendo of colour and shapes. Greens, reds and pinks were all visible on the cameras forming an evening of majestic memories that would last a lifetime!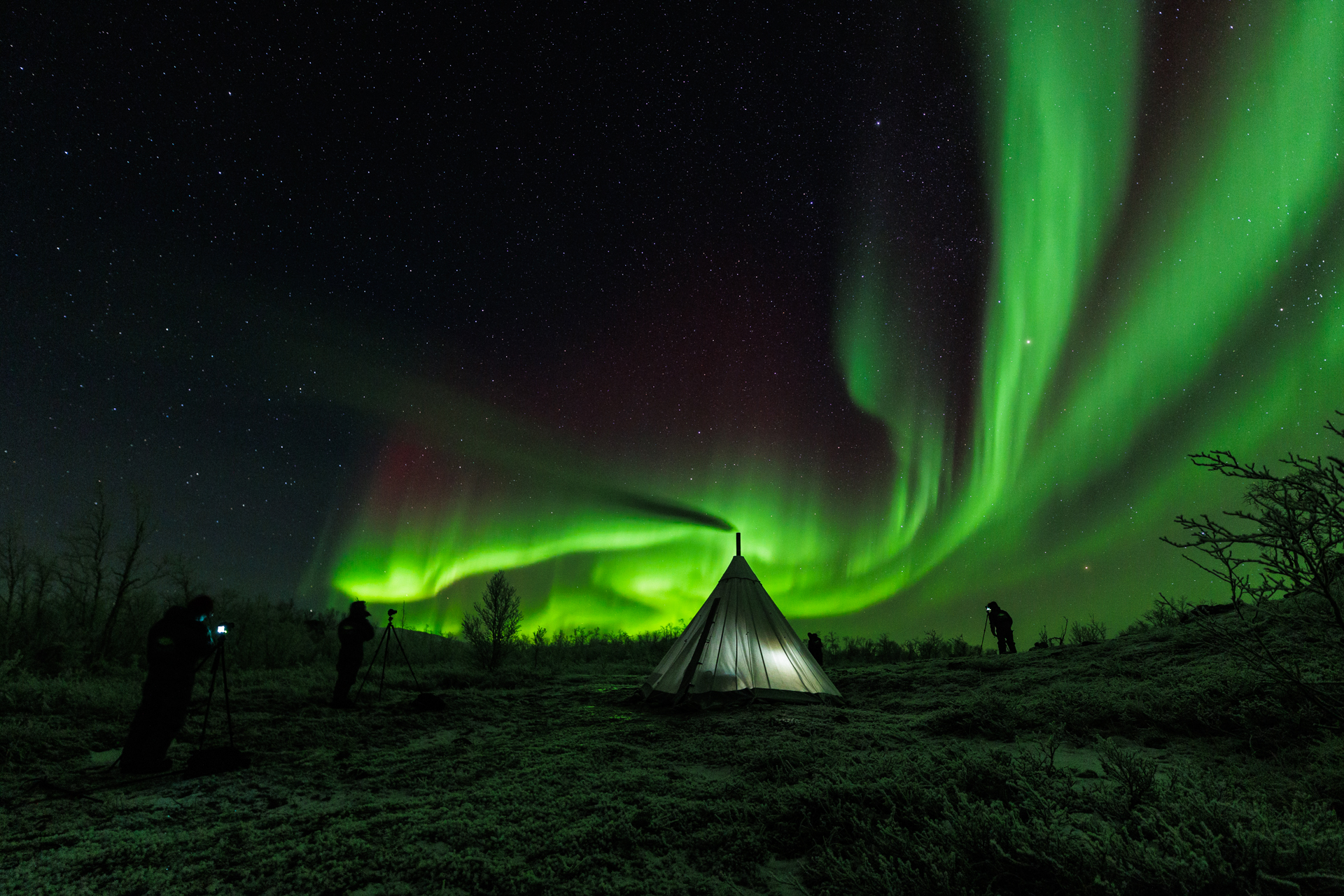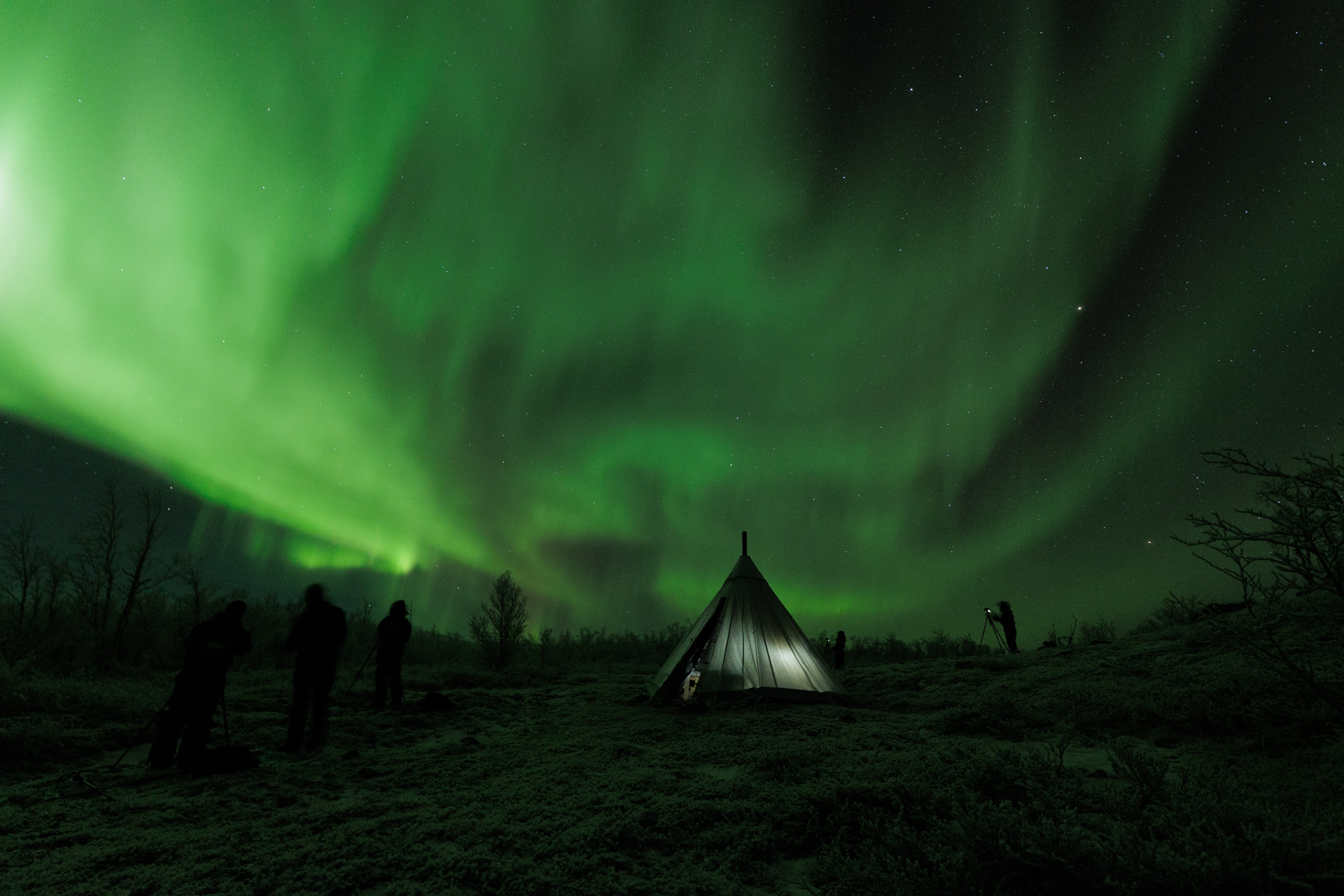 Three nights out of three is incredible for any aurora destination, can our guests achieve the fabled four out of four?
DAY 4
Another beautiful clear day and another amazing activity. Our guests had chosen a wildlife safari, and our guides chooses the best locations in line with any recent sightings. As with any wildlife adventure, sightings can sometimes be difficult, but we feel that the local scenery makes up for this and today Claudio decided to take a beautiful drive over the mountains.
The E10 from Sweden headed towards Riksgränsen is a truly beautiful drive, and one filled with stunning lakes, mountain vistas and finally a view into Norway that is second to none.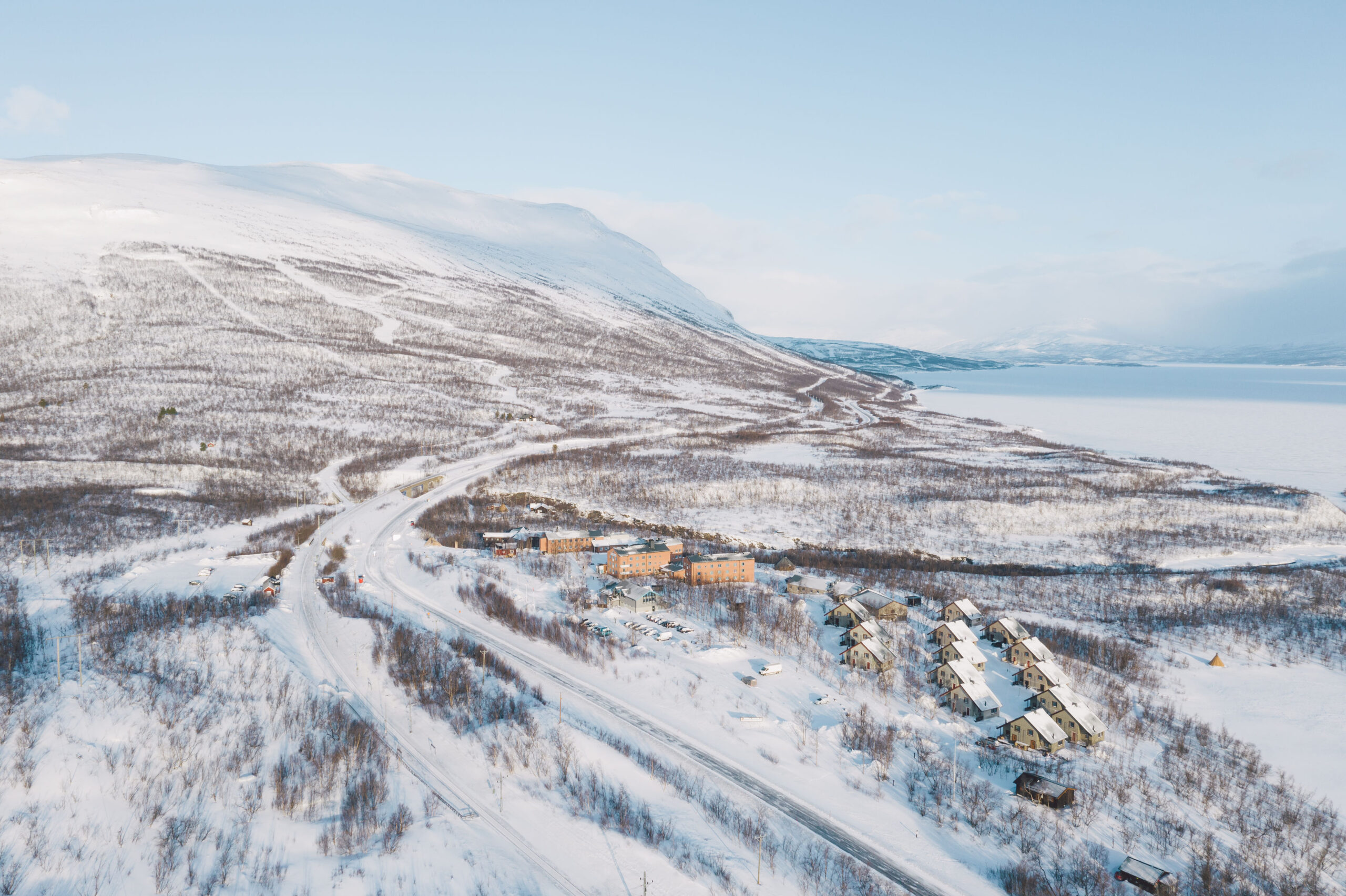 For their final night there was a bank of cloud forming over Abisko so Claudio made the decision to head east to see if they could escape the clouds. After about forty five minutes, stars began to appear. So Claudio used his experience to find a suitable location far enough off the road to give our guests a final chance of seeing the aurora for one last time. And that they did!
A beautiful green arc appeared, with delicate reds above it, almost a rainbow of aurora 🙂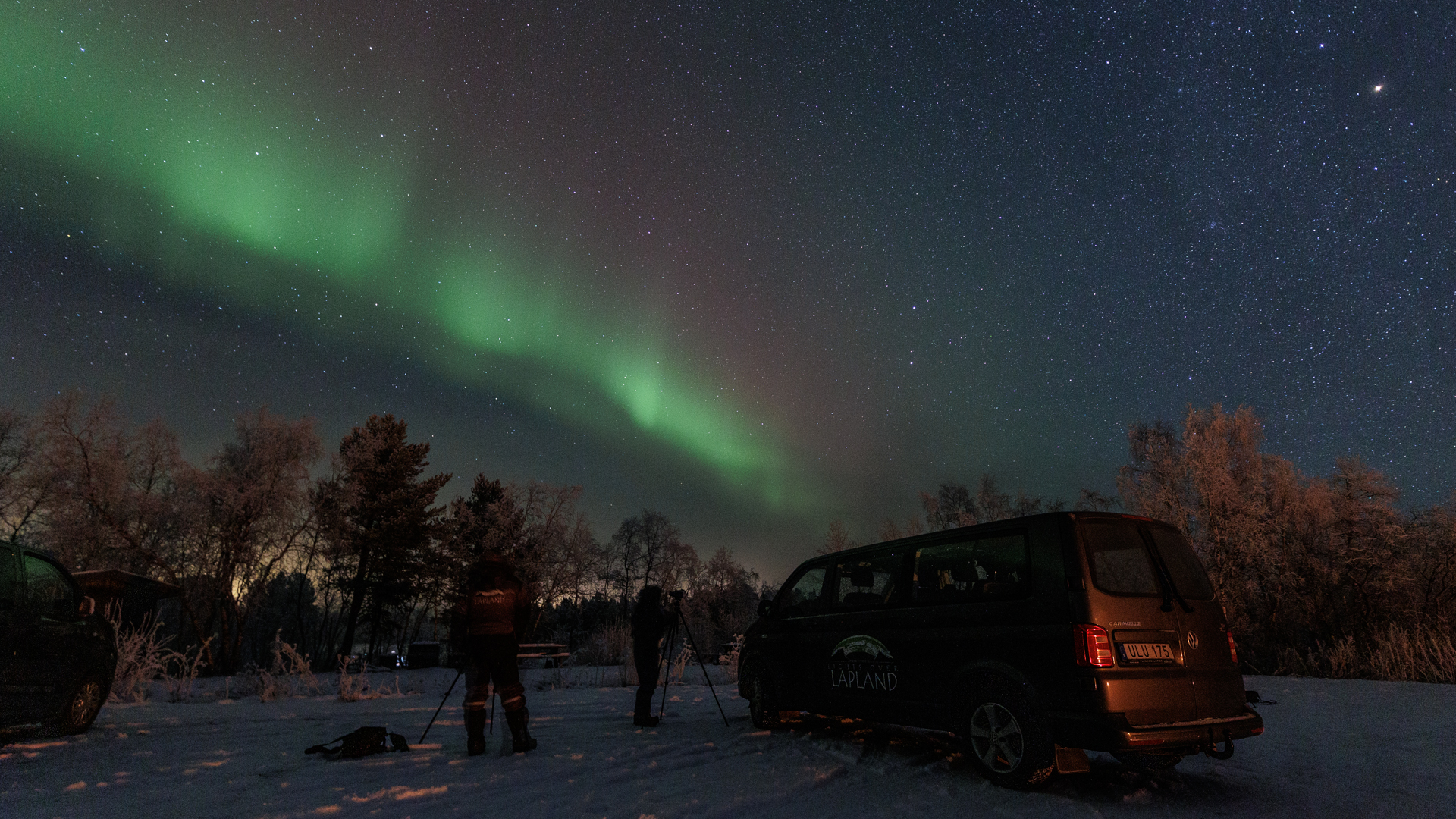 Our guests managed to see the beautiful phenomenon of the aurora borealis every single night of their stay, and even managed to watch it on the drive back to Abisko, before the clouds became too heavy.
DAY 5
It's always sad to say goodbye to guests but unfortunately every trip has to end. Claudio said his goodbyes, helped the guests with their bags and waved goodbye as they disappeared into the distance.
As you can see from start to finish, the 4 night, 100% Private Aurora Escape offers you amazing opportunities not just to see the aurora, but also to experience the stunning Arctic landscape. Our guides look after you from start to finish, and offer you amazing flexibility in making this a true trip of a lifetime, tailored specifically to you and your group. Many of our guests return year after year, and have become lifelong friends, will you make 2023 your year to experience the 4 night, 100% Private Aurora Escape?