Christmas & New Year in Lapland
Christmas & New Year in Lapland
Lapland is the proverbial home of Santa Claus and his team of reindeer – what could possibly be a more fitting destination for your Christmas holiday this winter? During this once in a life time adventure you will spend your nights watching the northern lights dance overhead and your days will be filled with exciting adventures that can only be found in Lapland.
Where
Abisko National Park, Sweden
Meeting Place
STF Abisko Turiststation
Price
19,495.00 SEK/person
This all inclusive trip is among the highest ranked aurora photo adventures on Earth and will give you an opportunity to enjoy a delicious Scandinavian holiday foods with endless amounts of local traditional delicacies. Twenty hours of darkness per day and a very high likelihood of clear skies will give you the greatest possible chance to see the magical aurora borealis during your time in the National Park. #1 THING TO DO
IN ABISKO NATIONAL PARK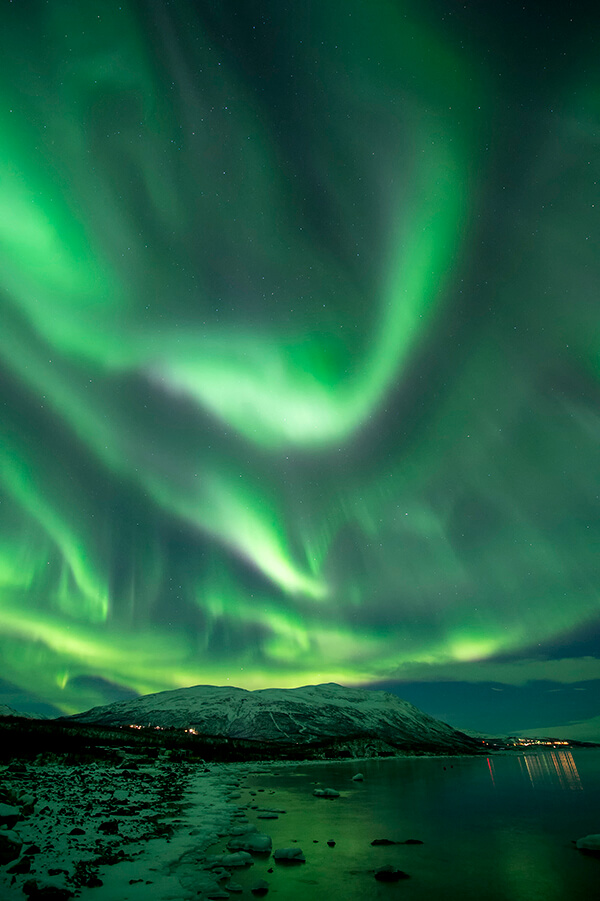 Included in package
Four nights in a private, newly renovated room with a private bathroom at Hotel STF Abisko, beautifully located in Abisko National Park, Sweden. The hotel has many cozy public areas where you can find your own spot to admire the awe-inspiring views or keep in touch with the outside world using the free Wi-Fi service provided.
Four exciting aurora adventures lead by one of Lights Over Lapland's Sr. guides. We will go to a different location every night depending upon current weather conditions. We will choose between the following locations:

The Lights Over Lapland tepee, a traditional Sami tent set up in the National Park.
STF Abisko's famous Sami camp, one of our most popular Lights Over Lapland locations!
A snowmobile sleigh ride to one of our remote wilderness camps in the Abisko Mountains.
An exciting aurora hunt in one of Lights Over Lapland's safe and modern minivans.
A boat house on the shore of Sweden's 6th largest Lake – Torneträsk.
A scenic location along the shoreline of Lake Torneträsk.

A half day dogsledding adventure in the frozen wilderness of Abisko National Park.
A day trip to the world famous Icehotel.
High quality camera, tripod, backpack and batteries for the duration of your stay.
Warm Arctic overalls to be worn over your clothes.
Access to an authentic Scandinavian sauna.
Organic breakfast buffet with a wide variety of tasty breakfast foods.
Traditional Swedish lunch buffet or packable lunch boxes for your outdoor activities in Abisko National Park.
Gourmet three course dinners created with local delicacies such as reindeer, moose and Arctic Char.
A traditional Swedish Christmas/New Year's dinner on the 24th/31st of December.
Delicious vegetarian, vegan and gluten free meals available upon request.
Guiding services provided by one of Lights Over Lapland's professional aurora photography guides.
Additional information
You will have the opportunity to experience 5 days and 4 nights of exciting adventure well above the Arctic Circle. Thanks to a very dry and clear climate you will have a minimum of an 80% chance of witnessing and photographing the aurora during your stay in Abisko. By day you can spend time on your own enjoying the wilderness of Abisko National Park, or join a guided tour with one of our professional partners. By night your guide will help you locate and photograph the aurora in and around Abisko National Park.
Lights Over Lapland is proud to announce that 100% of our guests have seen auroras during our Christmas in Lapland packages! While we can not guarantee that you will see the lights during your trip we can say that you have a very high likelihood of success. Due to our location in a micro climate and resulting rain shadow, Abisko National Park is one of the finest locations for stargazing and astrophotography in the world.
Our tours are designed in a way that will accommodate as many different levels of physical fitness as possible. We usually walk less than one kilometer per direction to and from our many locations in Abisko National Park. Is is common to walk in deep snow and in cold conditions during our tours. If you have any physical limitations that may cause you to be unable to walk a total of two kilometers at a steady pace in heavy winter clothing, please inform us when you make a booking so we can discuss your needs ahead of time.
Good to know
This 4 night package includes all food, lodging and multiple activities.
We include a dogsledding trip and a day trip to the Icehotel in your package but it is possible to add one more adventure to your action packed itinerary for an additional fee. View all of our activities!
You will only pay a 20% deposit when you make the booking. We will send you a detailed itinerary of your trip together with your final invoice approximately 60 days before arrival.
Minimum age: 16 years old. Please note that we cannot make exceptions to this policy.
Our Christmas & New Year packages are strictly limited to 10 participants – maximizing your ability to spend as much one on one time with your guide as possible. We are confident that you will go home with lots of great pictures and memories of the Arctic that will last a lifetime!
Our trips have a tendency to become fully booked well in advance so it is recommended that you confirm your booking as early as possible to guarantee your position on this once in a lifetime opportunity!
Lights Over Lapland is proud of the fact that all of our trips are all inclusive and that we DO NOT require any sort of supplement for single travellers. When you book a trip with us you can rest assured that there will not be any additional fees upon arrival. Alcohol and soft drinks are not included.