What an interesting time to be alive! Much like our past and future guests, the Lights Over Lapland team has spent the Summer watching the COVID-19 crisis slowly unfold and anxiously hoping for things to improve around the globe. All the while, we have been busily working on updating our health and safety policies to keep our guests & guides as safe as possible while enjoying our aurora tours in Abisko. We have also used this time to adjust our booking and cancellation policies so that we can stack the odds in the favor of our clients and provide a bit of peace of mind so that travellers can rest assured that their hard-earned money will be secure if they have to make a last minute change to a booking.
As we have worked on these new and improved policies & plans we have been overwhelmed by the support and kindness we have enjoyed while speaking with our existing clients. If we have not already had the opportunity to say it directly to you, we want to take the time to say it now: Thank you! Lights Over Lapland is a family run business which stared as a dream to share the beauty of the northern lights with guests from all over the world. Because of your support, we have been able to live this dream for nearly a decade. Because of your kindness, we have been able to keep our heads held high during these uncertain times and we are confident that Lights Over Lapland will survive for many years in the future. This survival means that we get to keep our dream alive, and more importantly that we get to continue to help future travellers make their dreams of seeing the northern lights come true, too. Knowing this gives our team the energy needed to keep moving forward and to look toward the future with a positive outlook.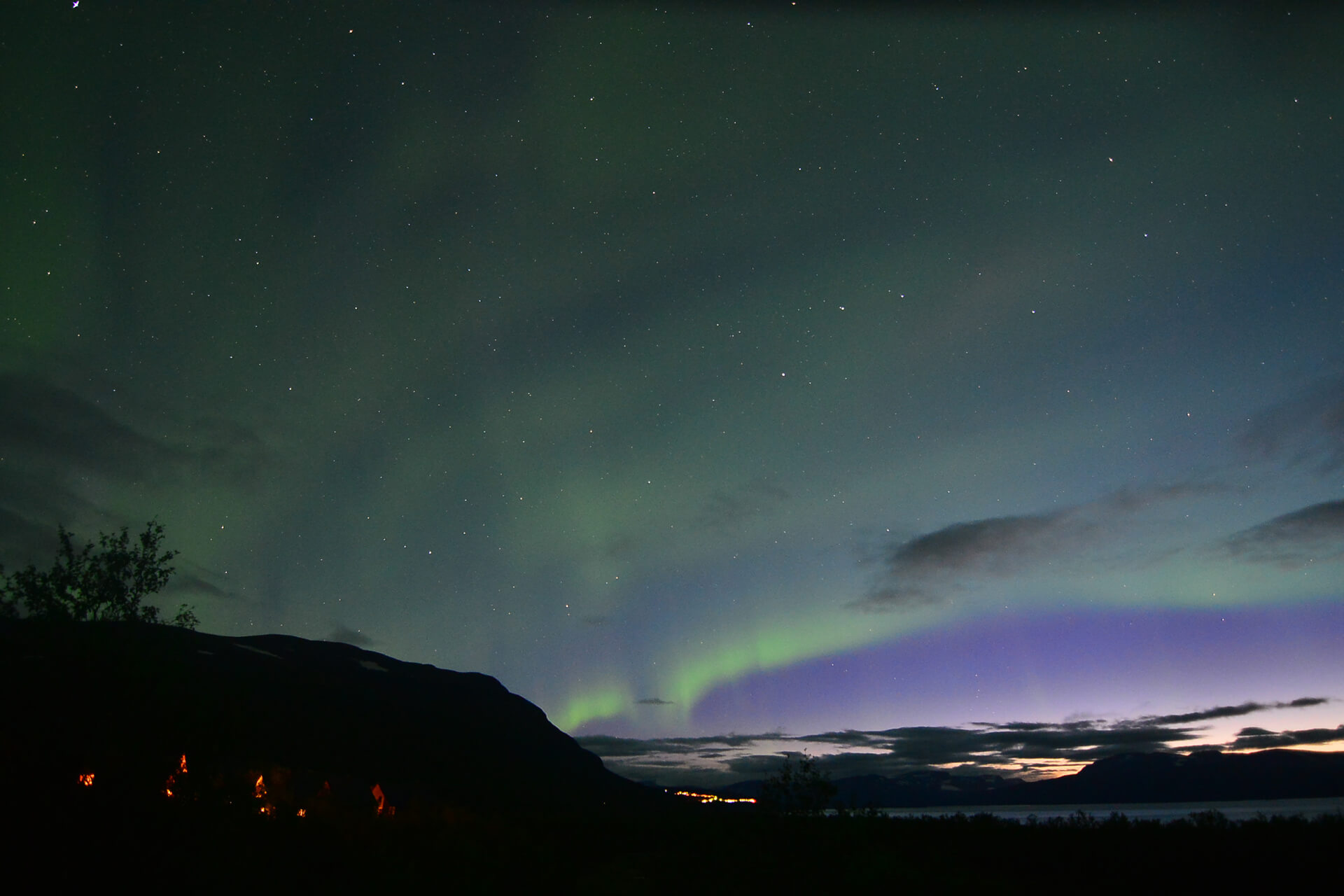 As we moved through the Summer and into the Autumn it has become painfully clear that the ongoing situation with COVID-19 is not going away any time soon. This realization has led us to put a lot of brain power towards thinking about living through the COVID-19 era & the impacts that it may have on the upcoming aurora season, and three things are certain:
We never know what life has in store for us, and the future is not guaranteed. Because of this, I believe that it is critical that we do the things that we love while we have the opportunity to do so. If your lifelong dream has been to stand in awe under the northern lights, there is no time like the present to check the dream off of your bucket list!
The Sun is waking up from a deep Solar minimum. We saw our first aurora display several weeks back, and our webcam has captured powerful auroras six out of the last seven nights as of the date that I am writing this blog. If this is any indicator of things to come, there will be lots of great aurora displays dancing above Abisko National Park this season. But you don't have to take our word for it; Dr. Tony Phillips, our friend, world famous astrophysicist & director of www.spaceweather.com predicted that this season would bring an uptick in solar and aurora activity while visiting our team last year.
People are still eager to travel to the Arctic this season but they are concerned about joining traditional aurora adventures that would have them travelling with groups of strangers, using shared accommodation & restaurants and potentially being put into a situation where it is difficult to maintain a healthy social distance. As we discussed these concerns with several of our guests we had an epiphany which led us to a suite of exciting new adventures which are designed to build a bubble of protection around you and your friends & family all while providing the five-star service that made Lights Over Lapland famous among aurora chasers all around the globe.
We are proud to announce our newest set of adventures: COVID-19 secure, 100% private aurora tours and private multi day adventures in Abisko National Park:
The first addition is a four day, 100% private aurora holiday in Abisko National Park which uses a house that we own in the heart of Abisko as a base for your adventure. This private aurora escape includes accommodation, and all meals are provided at our lovely house in Abisko. We believe that this private aurora adventure in Abisko represents the ultimate experience for those wanting to see the Northern Lights this season – and does so whilst providing the knowledge that our guests are travelling as safely as possible. We wanted to make sure this stunning region was open for guests to experience, but do it in a completely controllable and secure way so that visitors can relax knowing that everything has been considered.
The 100% private experience starts as soon as you land at the Kiruna airport where you will be met by a guide that will remain with you for the entire trip. From here, the adventure begins with a guided scenic tour from Kiruna along Lake Torneträsk to the world-famous Northern Lights destination of Abisko National Park, keeping an eye out for reindeer and moose along the way. After settling into your traditional Swedish house, you will have the chance to choose from a range of daytime activities, including anything from a private guided trip to ICEHOTEL with lunch; Ice fishing, an exciting morning hike in Abisko National Park, a wildlife photography drive, a landscape photography course or snowshoe hike in pristine Arctic wilderness. It is also possible for our guests to add snowmobiling or dog sledding for a small supplement. All of the activities are delivered by the same Sr. guide, making the most of the experience, but minimizing contact with others. Whilst the wilderness around Abisko is already one of the best possible places for social distancing, we wanted to build a trip that allowed our guests to have their own space, limit contact whilst delivering the best once in a lifetime experiences.
Every evening, your guide will assess the weather forecast and take the guests to the best possible place to experience the Northern Lights whether that be in a traditional Sami Tepee, a harbor on the lake shore, a wilderness cabin or out in the wild next to a cosy fire. We have over 15 dedicated locations that are possible to explore. As each guide is a fully trained and experienced Aurora photographer, and with every guest given all of the photography equipment and instruction on their trip, there is no doubt that our guests will be going home with their own images of the Northern Lights.
All of the vehicles, equipment and the accommodation will undergo a thorough cleaning and sanitation process between guests, with PPE available on request. This experience has been designed for families or groups on an exclusive basis with the group remaining in their bubble of safety throughout the trip.
Breakfast and lunch will be catered for at the accommodation, with evening meals prepared by a local chef either in the house or at the tepee – depending on the wishes of the group and the Aurora forecast.
The new 4 night, 5 day Private Aurora Escape, is available for one – six people travelling from October 2020 to April 2021, costing from 14,165 SEK per person, excluding flights, based on 6 people travelling. This includes 4 nights of accommodation with all meals, private transfers, dedicated guide just for the group throughout, a choice of one daytime activity per day and a guided Northern Lights hunt every evening, additional warm overalls for activities and camera equipment for Aurora photography. Every aspect of the trip has been designed to be as COVID-19 safe as possible including cleaning, sanitizing, social distancing, PPE provision and creating the social bubble with your dedicated guide. For more information about this new private aurora tour in Abisko, take a look at our 4-night 100% private aurora escape.
The next addition is a brand new, single evening private aurora tour in Abisko which is based on our highly successful Nightly Aurora Photo Tour in Abisko National Park. This private aurora tour in Abisko allows you and up to eight of your friends and family members to spend the evening with one of our world-renowned aurora guides and gives you a very high chance of success, even if you are only able to visit us for one evening. Depending upon the local weather and aurora predictions we will choose to stay close to the blue hole of Abisko National Park, or we may head northwest towards Norway or southeast along the Torne Rive valley in search of the northern lights. This private aurora tour in Abisko gives you ultimate flexibility to either visit one of our locations in Abisko, or to make a last-minute call and turn your adventure into a private aurora chase. Either way, you are sure to go home with memories of an evening under the Arctic sky that will last a lifetime!
At the end of the day, no one can argue that COVID-19 has had a massive impact on the travel industry, but that does not mean that you cannot safely enjoy a northern lights holiday in the Arctic this season. If you are thinking of travelling, and can safely get to Abisko don't delay. Book your adventure of a lifetime with us today!