In the past 18 months the world has changed as we knew it, and many companies have had to evolve their products to be able to become more future proof. Here at Lights Over Lapland we've used the time since the pandemic began to evaluate our current products and see how we can improve them whilst maintaining our world class reputation as the best aurora tour company in the Arctic.
Lights Over Lapland has been operating in Abisko since 2010, it started out small by our founders Chad & Linnea Blakley. And what began as a passionate hobby evolved into a first class aurora tour company enabling thousands of visitors from around the world to check off that bucket list experience of seeing the aurora borealis.
All of our tours have always had the same goal – to enable our guests to see an aurora. We use carefully picked guides from around the globe, who work tirelessly in achieving that for our visitors. All of our guides have strong photographic backgrounds, and combined with the camera equipment that we provide on our photographic single and multi-day tours, we feel that guests have the best chance to experience and photograph the dancing auroras in the dark Arctic skies.
Abisko is classed as one of the best places to see the aurora in the world. Situated 150km above the Arctic Circle in northern Sweden it is relatively easy to visit Abisko, flights from Stockholm are frequent up to Kiruna our nearest airport. Combined with the unique phenomenon known as the 'Blue Hole of Abisko' this makes your chances of a successful aurora vacation with Lights Over Lapland high.
Historically all our photo tours were based on 10 people, we felt this number the best to work with, enabling the maximum number of guests a chance of seeing an aurora whilst giving comfort at our locations if weather conditions changed for the worse. We use various types of shelter ranging from traditional lavvu, a traditional Sami earthen hut, a small wooden cabin towed out on to the ice of a frozen lake Tornetrask and yurts at our more remote locations. The rule of 10 worked well, and allowed people to warm up and enjoy refreshments in relative local comfort.
Over the past few months we have created a new unique nightly experience – The Ultimate Aurora Photo Adventure, which has replaced our world leading Nightly Aurora Photo Tour. After long discussions with our team we all agreed a new cap of 8 guests on our Ultimate Aurora Photo Adventure which would not only offer more opportunities for social distancing in our shelters, a need driven by the global pandemic, but also the chance of easier mobility if we decide to change locations during the tour.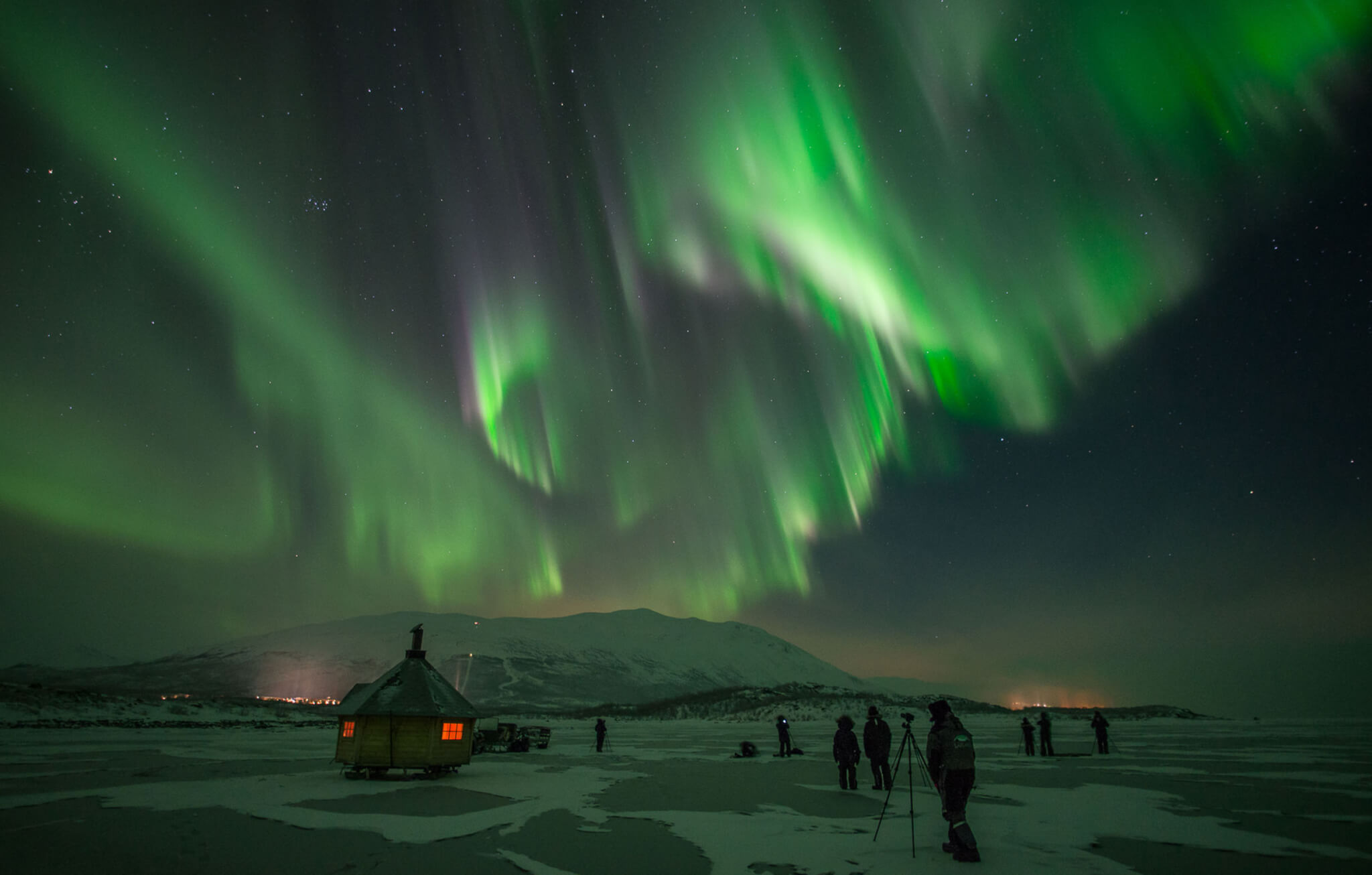 Our guides are world class at reading the local weather conditions and use a combination of weather forecasts, local contacts and their instincts on where to take guests to heighten the chance of seeing an aurora. A small window in the clouds is sometimes all that is needed but being able to read the 'space weather' also enables us to make a judgement call of where the aurora may appear.
In my 6 years of guiding in Abisko I have witnessed the amazing climatic conditions that make it a world class destination to visit. Given its location in the Arctic, the weather can be unpredictable, and all of our guides have led tours in zero visibility where our guests believe there's no chance to see anything and then 2 hours later the skies open up and they are looking a beautiful aurora. This is all because of the above mentioned 'blue hole' effect where the unique geography of Abisko allows clear skies even when all hope seems lost.
However, there are times when we may need to travel further afield, whether towards Narvik in Norway, or back east along Lake Tornetrask towards Kiruna in search of clear skies. This may be for part of the tour, returning towards Abisko if conditions change, or for the whole tour, waiting in a carefully picked location by your experienced guide. The new limit of 8 on our Ultimate Aurora Adventure allows us all to travel in a comfortable four wheel drive van, giving your guide the ultimate in flexibility in helping you to see the aurora.
Not only does this change offer more comfort and flexibility, but it also allows our guides to spend more time with each person on the tour. We were perfectly comfortable looking after 10 people a night on our aurora photo tour, but a lower guest to guide ratio is always a good thing. We aim to make your experience when you visit Abisko with Lights Over Lapland the best we can and we feel this significant change to our aurora photo tour will help us achieve this.