Abisko is a great destination for single or solo travellers wishing to see the Northern Lights.
If you are dreaming of seeing the Northern Lights and are looking for a good place to visit as a solo or single traveller, let us explain why Abisko is the perfect destination!
First and foremost, Abisko is one of the very best places on Earth to see the Northern Lights. Abisko is located approximately 250 km inside the Arctic Circle, situating it perfectly under the Northern aurora oval—the rings above the Earth's magnetic Poles that determine the range of the Northern and Southern lights. The surrounding mountains grace Abisko with a special microclimate that often results in clear skies and stable weather making it a winning destination for aurora hunters.
Those lofty peaks break up the clouds rolling in from the West creating Abisko's famous 'Blue Hole'. Even the cloudiest of evenings can result in a beautiful show of aurora as the clouds open up. After ten years of running aurora tours in Abisko we firmly believe that there is never a scenario where there is no chance of aurora and we never cancel tours due to cloudy or bad weather. We offer a range of multi-night holiday packages throughout the aurora season (October to March) all of which are suitable for solo travellers!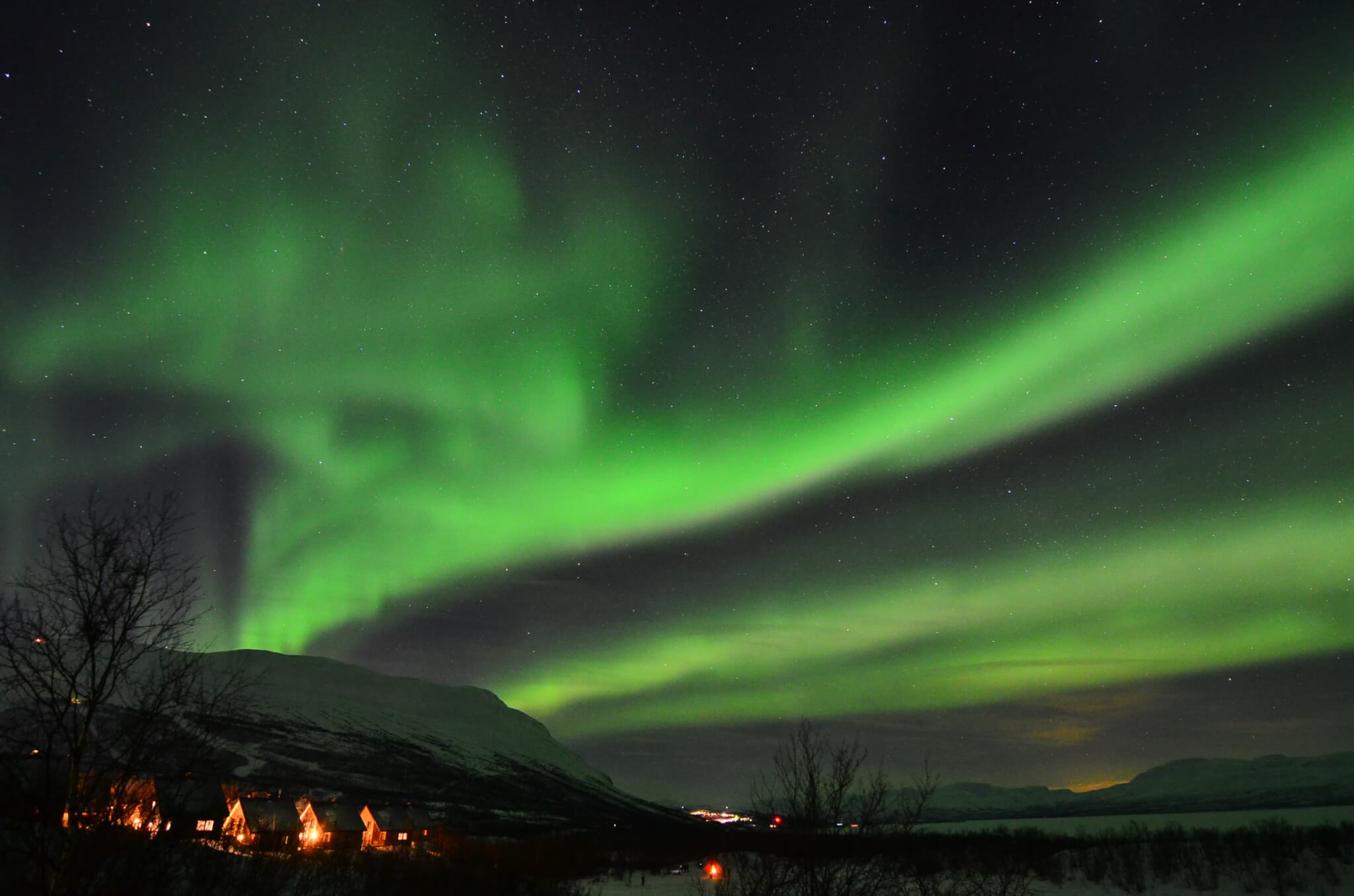 Lights Over Lapland's 4-night Customisable Aurora holiday is our flagship package tour and it is perfect for solo travellers. What makes this package special and ideal for people travelling by themselves is that our Customisable Aurora holiday packages have the same guide for the duration of your stay. You would eat dinner with your guide and the rest of the members of your group each evening and this creates a friendly atmosphere where you get to know everybody else on the trip and cultivates lifelong friendships. Guests who met on our very first holiday package back in 2010 are still good friends to this day!
This all inclusive package is led by one of our senior guides and it is designed in a way that maximises your chances of seeing the northern lights during your stay. Our Customisable Aurora Holidays are strictly limited to eight participants which gives you an intimate group size and plenty of one-on-one time with your guide.
Our 3-night Weekend Aurora Getaway is perfect for travellers who are short on time or on a budget as this package is designed to give you the highlights of an aurora holiday in Abisko National Park at an attractively low price. On this package the evening aurora adventures each night of your stay are also limited to eight participants and while this package is not a group trip, our attentive guides are good at promoting a warm and friendly environment.
On the above two holiday packages, there is no difference in price per person regardless of whether just one person books or a couple, and all accommodation is in a private ensuite room irrespective of the number of guests.
If you wish to travel on dates where we do not have a pre-built holiday package, or perhaps you would rather book a more flexible adventure, our Anytime Aurora Adventure holiday package   may be the perfect solution. This all inclusive package includes aurora adventures every night and one daytime activity of your choice, and it can be booked for a minimum of three nights up to as many nights as you wish! The bespoke nature of this trip suits independent travellers, solo or otherwise.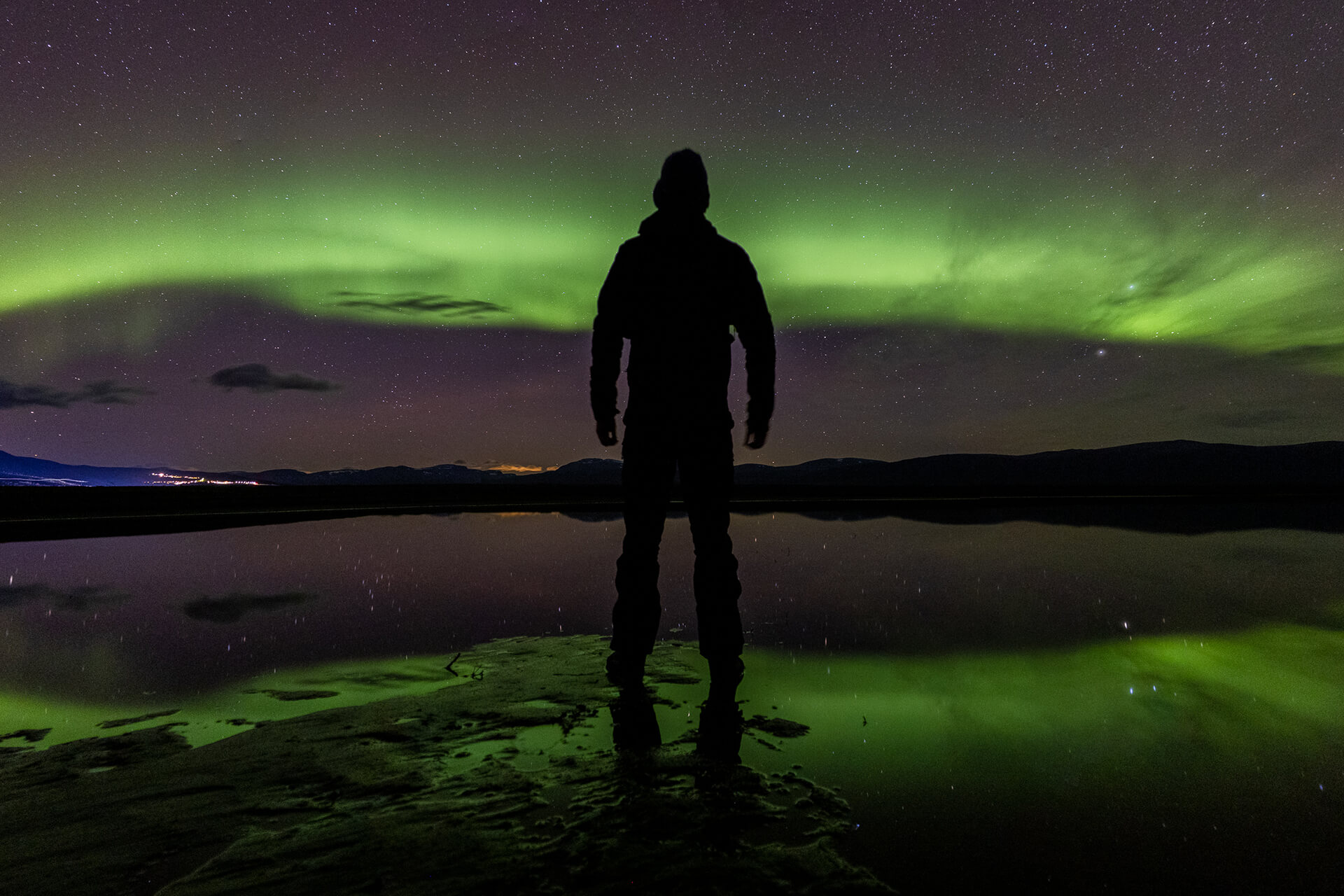 Abisko may be deep inside the Arctic Circle but it is conveniently easy to get to. Especially for solo travellers, this makes travelling to see the Northern Lights very straightforward. Somewhat surprisingly for a tiny village, there are two railway stations in Abisko: Abisko Östra station services the village, while Abisko Turist station is located inside Abisko National Park. You can take the night train from Stockholm and step off the train directly into the National Park the following morning. The Arctic Circle Train has comfortable sleeping compartments or inexpensive couchette bunks; it departs in the early evening and you wake up to a snowy wonderland.
A quicker route is by air. The nearest airport to Abisko is in Kiruna and there are frequent short flights from and to Stockholm Arlanda serviced by SAS or Norwegian.
Regardless of which holiday package you book, one of our professional guides will meet you on arrival to Abisko, help you with your luggage and show you the hotel.
The guests that book on our multi-night holiday packages come from all over the world and there is a wide range of ages too. On average, 60% of our holiday package guests are women and there is usually a combination of couples and solo travellers on our Customisable Aurora holidays. Book your aurora adventure with us and we are confident that you will make lots of memories to last a lifetime, and perhaps some new friends too!