If you have spent any time researching a trip to see the northern lights you have probably heard rumours about the blue hole of Abisko and how it has catapulted our tiny remote village into the spotlight and solidified Abisko's reputation as the the best place on Earth to see the aurora borealis. I have searched the internet high and low, but have never found an easy to understand explanation of what the blue hole is and how it functions, so I decided to take matters into my own hands and shine a bit of light on this legendary weather pattern. When reading this blog please be aware that I am not a meteorologist or an educated scientist so I will be explaining things to the best of my ability in a way that I believe most of our readers will understand 🙂
As you continue to read this blog, I will explain the blue hole of Abisko in detail, but I thought it might help to start with a photograph. The image below is a composite image which consists of nearly twenty images, with the camera pointed straight up. Along the bottom edge of the image, you can see the shore of Lake Torneträsk, our home mountain range which is often called the "Abisko Alps", and Abisko's most famous mountain, Mt. Noulja. The image gives you a 360-degree vantage point and clearly shows that there are clouds in every direction – other than the sky directly above Abisko National Park. It may be difficult to get an understanding from this image alone but keep reading and we will continue to explain and share a video which brings the blue hole of Abisko to life.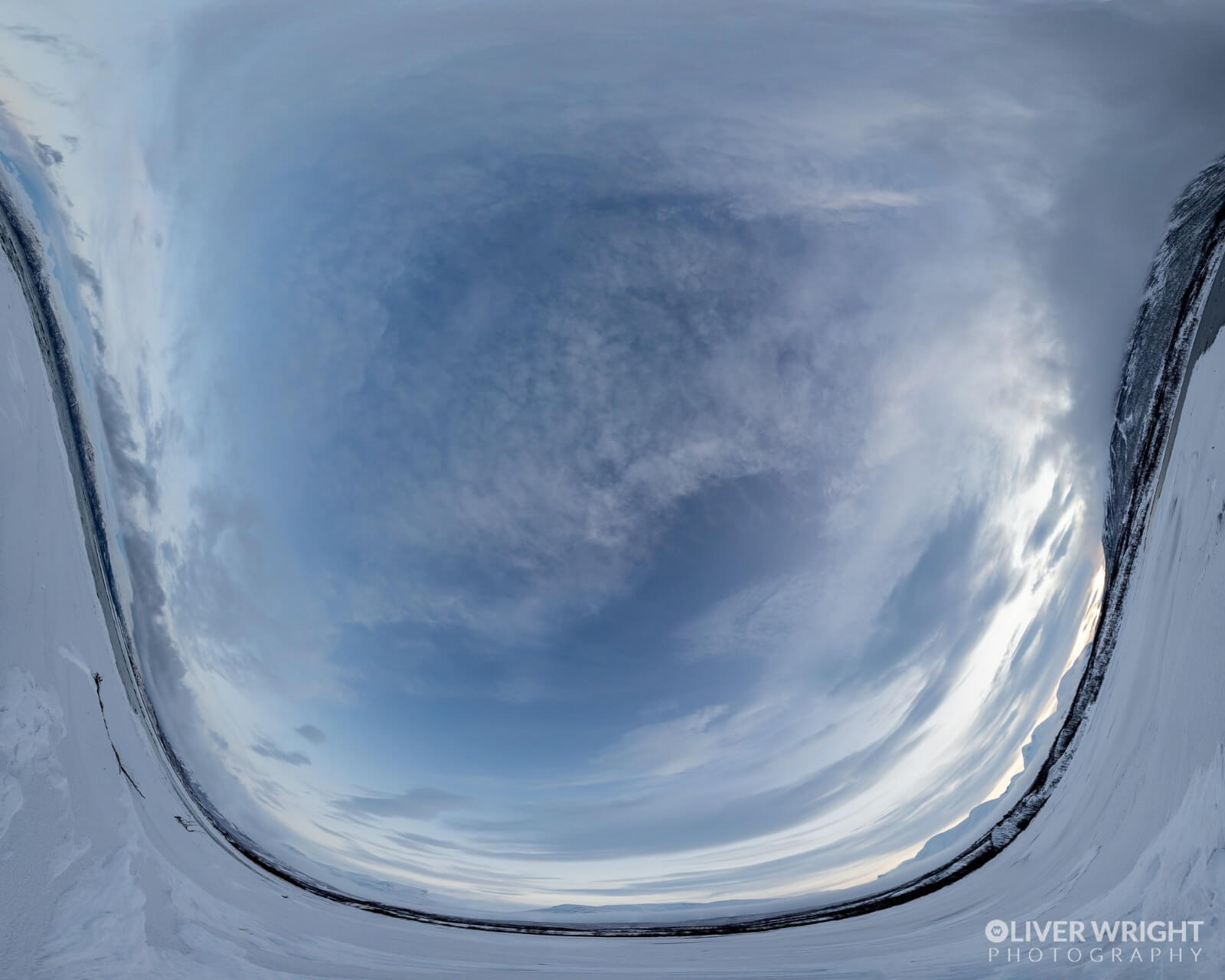 Long story short, the blue hole of Abisko is a common name for a weather pattern that blesses Abisko with more clear nights than any other destination which is location inside of the aurora oval – the area near the north and south poles where auroras are usually viable. This weather pattern is fueled by the jet stream and the prevailing winds that blow in from the Arctic ocean in a westerly direction. The stability and reliability of western winds provided by the jet stream means that for the vast majority of the aurora season, the wind in Abisko blows in the same direction, which creates a perfect scenario for a prevailing weather pattern called a microclimate. By definition, a microclimate is is a local set of atmospheric conditions that differ from those in the surrounding areas, often with a slight difference but sometimes with a substantial one. In Abisko's case, the difference is substantial, and the  microclimate manifests itself in the form of a small hole in the clouds which is usually around 10-20 square kilometers – directly above Abisko National Park. This microclimate is created as the prevailing winds blow in from the Arctic ocean and crash into the tall mountain peaks just over the Swedish border in the deep Arctic wilderness of Norway. The large peaks in Norway effectively tear a hole in the clouds and create a rain shadow directly above Abisko. This leads to an opening in the clouds reveals the famous blue hole of Abisko, which is often filled with auroras. Without stating the obvious, a blue hole turns into a crystal clear window into the heavens at night and has helped countless guests from all over the world see and experience the northern lights in Abisko National Park, Sweden.
When I was a younger man, one of my greatest passions in life was white water rafting in the Snake River which flows through Teton National Park in Wyoming, USA. Because of my time on the water, I often compare the blue hole of Abisko to an eddy. An eddy is a small area of calm water which is usually surrounded by roaring rapids. The calmness is created as fast moving water flows past a stationary object in the river, usually a large boulder that is not fully submerged. The area directly downstream of the boulder is very calm, even though it is in the midst of a raging torrent. This relative calm offers a weary paddler a place to pull over to collect their thoughts, relax their tired arms and to make a plan of action for the next stage of the rapids in a calm environment. This is exactly the same sort of physical dynamic that creates the blue hole of Abisko – just imagine the prevaling wind as water in the river, the peaks in Norway as the boulder in the stream, and the sky above Abisko National Park as the eddy.
While aurora lovers often use jargon or slang when speaking about the mystical blue hole of Abisko, meteorologists and scientists prefer to focus on cold hard facts. Case in point: Abisko has one of the lowest levels of precipitation (any form of moisture falling from the sky) in all of Sweden and Scandinavia as a whole. On the other hand, if you travel just a few kilometers up the road to Riksgransen, you would be in an area with the highest levels of precipitation in Sweden and Scandinavia as a whole. This is a great place to go if you are interested in down hill skiing, but would not be an ideal location to see the northern lights. Using this scenario, I have lost count of how many guests we have had join us an an aurora tour in Abisko National Park after one, two or three unsuccessful attempts to see the northern lights in places like Iceland, Alaska or Norway only to finally enjoy a successful aurora chase in Abisko National Park.
If a picture is worth 1000 words, then a video must have even more value. That said, You can see a quick video clip below that was captured a few days ago by Lights Over Lapland guide Claudio Comi. This video brings the blue hole of Abisko to life, and shows you exactly what it is like to be in the blue hole.
Our guests often ask us if we cancel our aurora tours in Abisko if the sky is cloudy and the simple answer is no. The logic behind this is simple, but can be hard to believe until you experience it for yourself. Long story short: there is never a weather event in Abisko that makes it impossible to see the northern lights, particularly when it is windy during a heavy snow storm. I can not count how many times I have started a tour during a heavy snow storm when our guests believed that there was zero possibility of seeing the northern lights only to be happily surprised later during the tour when the blue hole of Abisko shows itself and reveals a beautiful aurora behind the clouds. This experience is something similar to being at a theatre when the curtains open, only to expose a beautiful scene that seemed impossible to imagine until the curtains were drawn. Because of this, we never cancel tours unless safety is a factor as we believe there is always a chance of a successful aurora hunt in Abisko. This strategy has worked very well for us during the last decade and has made countless believers in the blue hole of Abisko. We had a a tour a few nights ago that was a perfect example of this: we started the aurora chase in a low cloud ceiling and a forecast of 100% cloud cover for the duration of the evening only to be greeted with clear skies later in the tour and a blue hole filled with auroras. As you can imagine, our guests were over the Moon with joy and all went home with big smiles on their faces.
With this in mind, I feel confident when I say that no other location on Earth offers you a higher likelihood of a successful aurora hunt. During the last decade, Lights Over Lapland has been offering multi-day aurora watching packages every week from October to March and more than 99% of our guests have gone home with memories of the northern lights that they can cherish for a lifetime.
While the weather pattern that creates the blue hole of Abisko is most prevalent during the winter, it does also have an impact on the area during the Summer. Instead of creating a clear window of opportunity to see the northern lights, the blue hole creates an environment where it is very likely to see rainbows. Consistent wind from the west, filled with water droplets interacts with the perfect angle of sunlight and can often create multiple rainbows in a single day. This offers travellers from all over the world a great opportunity to capture this incredible phenomenon. While we do not offer tours during the Summer, we can say with first hand experience that one of the best ways to experience this natural beauty is to view them from the observation deck at the world famous Aurora Sky Station.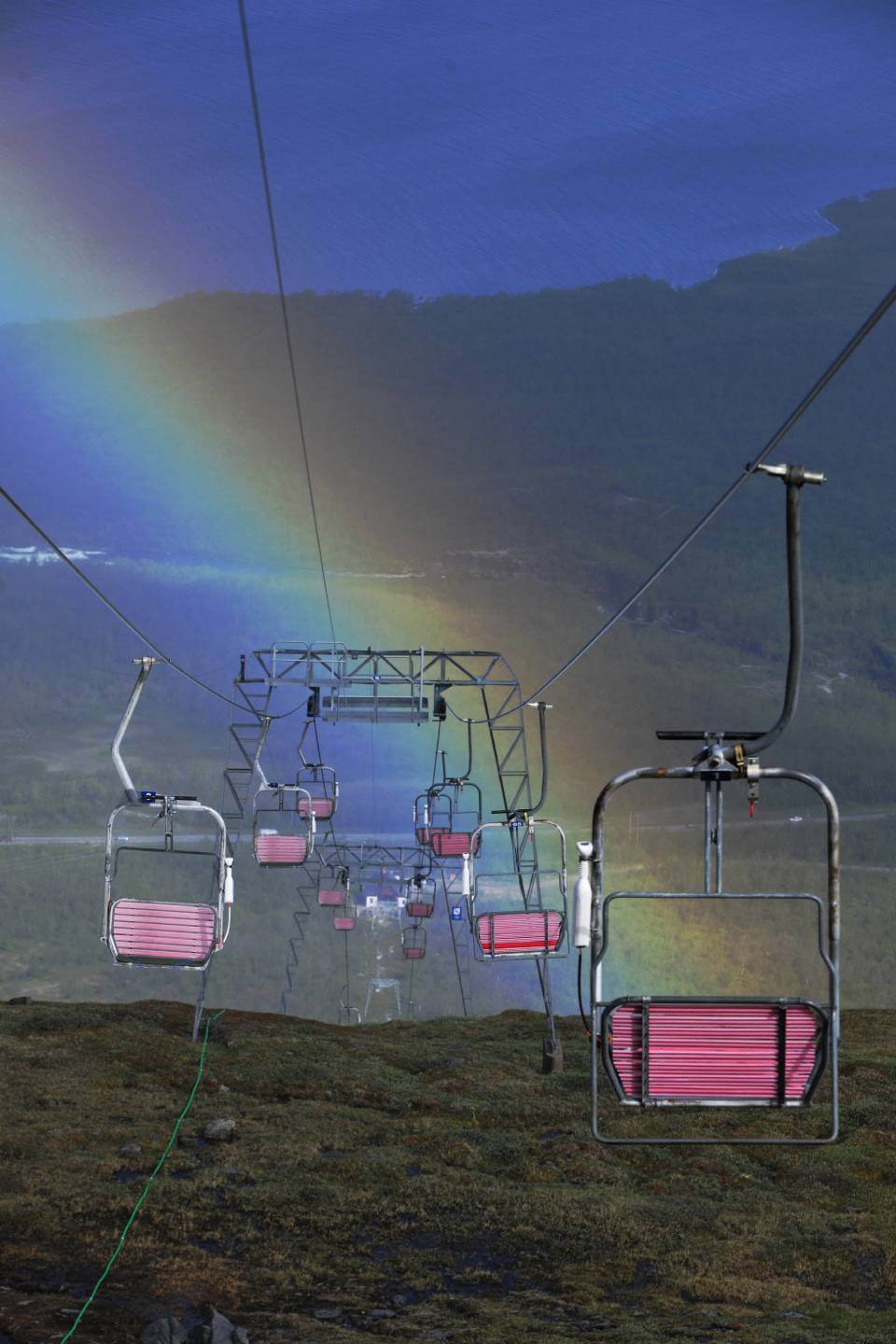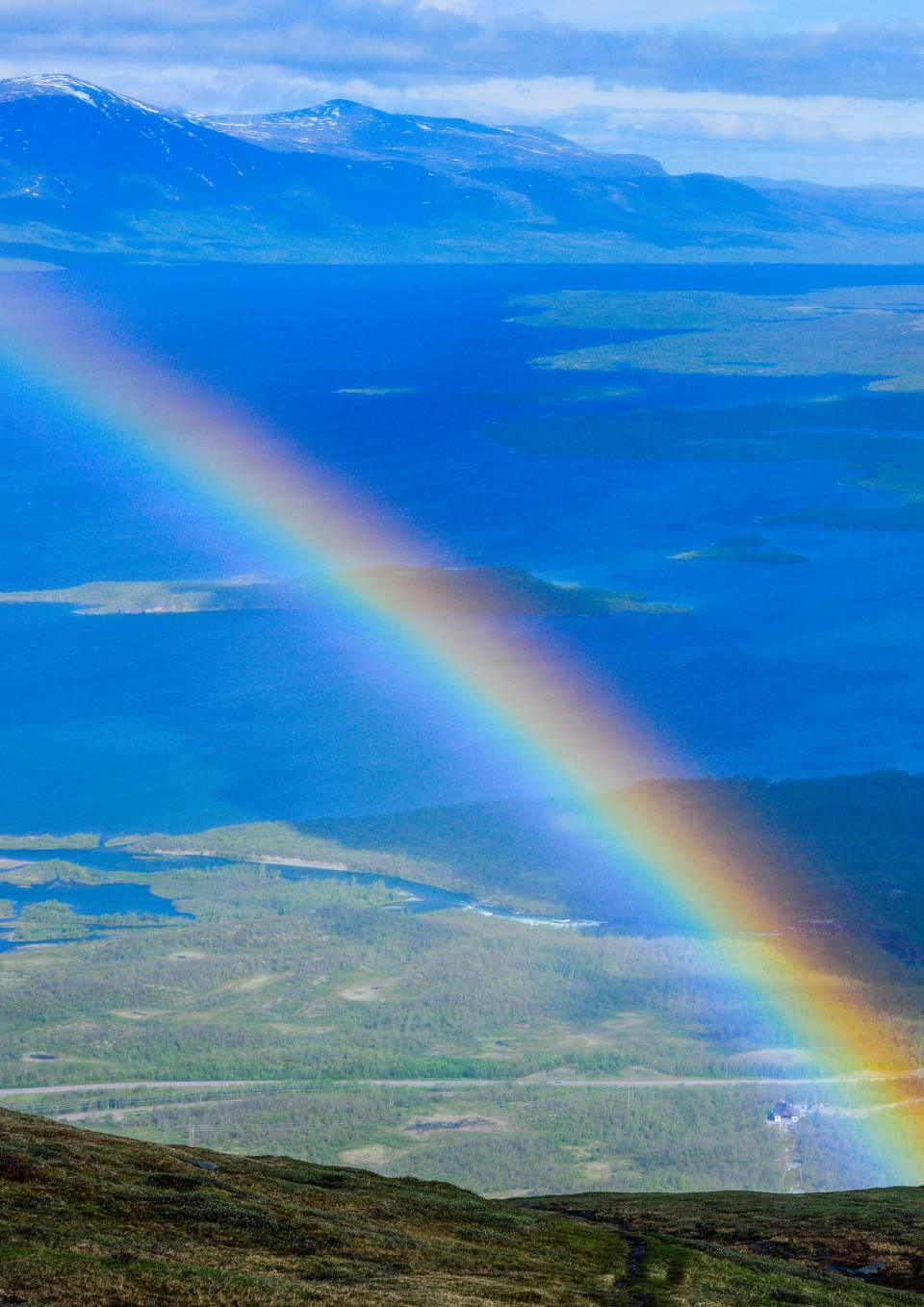 Now that you have a better understanding of the blue hole of Abisko and how it helps our guests see more auroras than any other location on Earth I would like to ask you a question. Where will you be when you finally see the northern lights? You can travel all around the planet hoping for good luck and clear skies, or you could stack the odds in your favour and come see us in Abisko National Park, Sweden. We can not guarantee that you will see the lights while you are in our care but we can say that no other location on Earth gives you a higher likelihood of success. We can also guarantee that no other outfitter will work harder to make the dream of checking the northern lights off your bucket list a reality. Book your trip of a lifetime today 🙂